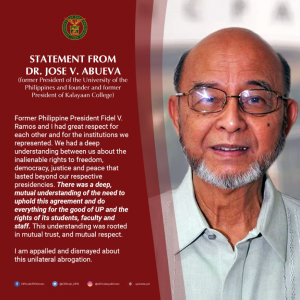 Statement from Dr. Jose V. Abueva
Former President of the University of the Philippines
Founder and former President of Kalayaan College
Former Philippine President Fidel V. Ramos and I had great respect for each other and for the institutions we represented. We had a deep understanding between us about the inalienable rights to freedom, democracy, justice and peace that lasted beyond our respective presidencies. There was a deep, mutual understanding of the need to uphold this agreement and do everything for the good of UP and the rights of its students, faculty and staff. This understanding was rooted in mutual trust, and mutual respect.
I am appalled and dismayed about this unilateral abrogation.