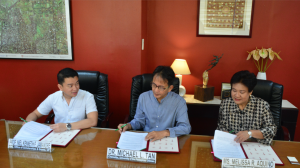 (JAN. 29)—Security Bank Foundation, Inc. (SBFI) entered into a memorandum of agreement (MOA) with UP Diliman (UPD) granting scholarship to four deserving students taking courses directly supporting bank operations.
Four students from the Cesar E.A. Virata School of Business (VSB) will receive the scholarship grant effective first semester for Academic Year 2019-2020. They are Ivie Luizsa R. Azor (BS Business Administration/BA), Christian Joseph Mallorca (BS Business Administration and Accountancy/BAA), Maryl Denica S. Mondragon (BS BAA) and Jhaera Mae A. Tordesillas (BS BAA).
SBFI led by chairman Rafael F. Simpao Jr. and Chancellor Michael L. Tan signed the MOA on Oct. 3, 2019.
As stipulated in the MOA, the scholarship fund will support the education of the qualified students taking courses in "Accountancy, Business, Industrial Engineering, Management, Finance, Information Technology and Computer Studies, Mathematics, Statistics Communications and Social Sciences and other related courses."
The scholars will receive a monthly stipend worth P10,000 per school month for 10 months or P100,000 for one academic year payable to their ATM account. In addition, SBFI shall provide the scholars with an "opportunity for internship in Security Bank if vacancies are available."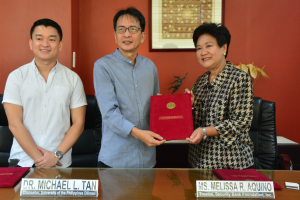 During the MOA signing, Tan said, "UP Diliman is most grateful for the generous donation of Security Bank to support our students.  Although tuition fees are no longer charged at UP and in state universities and colleges, students continue to face many challenges making ends meet, sometimes not even being able to take three meals a day.  The needs are endless, and we need more institutions like Security Bank in supporting our iskolar ng bayan so they can reach their full potential."
Meanwhile, Prof. Niel Kenneth F. Jamandre, Office of Scholarships and Grants (OSG) officer-in-charge, said this is the first time that UPD established partnership with SBFI for a Diliman-wide scholarship program.
"We look forward to the implementation of the program because we currently have four scholars who will be receiving a very promising amount that will help them focus on their academics," he said.
Jamandre also said SBFI Corporate secretary Melissa Aquino, who was present during the MOA signing, "considered proposing to the Board of Trustees to increase the number of scholarship grantees the following year and even include the graduate students."
To qualify for the SBFI scholarship program, applicants must come from an economically-challenged family with a general weighted average of 1.75 and a per subject grade of 2.00 or better. In addition, applicants must have a good moral character; has no other family member/s within the second degree of consanguinity or affinity who is/are currently admitted to any of the SBFI scholarship program; and not a recipient of any other scholarship except for tuition fee discounts provided by the University.
Interested students may apply for the scholarship at the Office of Scholarships and Student Services. For inquiries, please call (02) 981-8500 local 4506. —Haidee C. Pineda, images by Leonardo A. Reyes