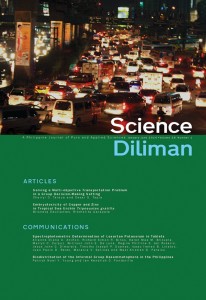 (JUN. 2)—"Science Diliman: A Journal of Pure and Applied Sciences (Science Diliman)"  ("Science Diliman") Volume 26, Number 1 issue is now available.
One of the official journals of the Office of the Vice Chancellor for Research and Development, "Science Diliman" is a Category A-2 journal declared by the Commission on Higher Education (CHED).  As earlier reported in UPdate online, Category A-2 is the highest level of accreditation CHED confers to journals not (yet) listed in Scopus or Thomson Reuters.  Category A journals receive a publication award of PhP 200,000 per year from CHED during the period of accreditation.
Faculty members who publish their works in Category A journals are deemed to have complied with the CHED's requirements pertaining to international level publication. Category A journals are also endorsed by CHED for library subscription.
Two articles and two communications are published in Science Diliman's current issue.
The first article, "Solving a Multi-objective Transportation Problem in a Group Descision-Making Setting" was written by Cherryl O. Talaue and Cesar G. Tapia.
The second article "Embryotoxicity of Copper and Zinc in Tropical Sea UrchinTripneustes gratilla" was co-authored by Brisneve Edullantes and Ritchelita Galapate.
Meanwhile, the first communication "Spectrophotometric Determination of Losartan Potassium in Tablets" was authored by Arianne Diane A. Aniñon, Richard Simon R. Binos, Karen Mae M. Brizuela, Marlyn C. Corpuz, Willison John E. De Luna, Regine Philline S. del Rosario, Jesus John C. Dimalala, Timothy Joseph P. Duenas, Isaac Ireneo B. Linatoc, Juan Paolo D. Recto, Melanie V. Salinas, and West Kristian D. Paraiso.
The second communication "Biodistribution of the Informal Group Basommatophora in the Philippines" was based on the research findings of Patrick Noel Y. Young and Ian Kendrich C. Fontanilla.
Dr. Marco Nemesio E. Montaño of UP MSI is the editor-in-chief of "Science Diliman."
To access the issue, click here.  Printed copies of the issue will come out by mid-Jun.