(MAY 17)—The UP College of Architecture (CA) now has more space with the inauguration of a new classroom building and a new auditorium to improve its services and provide additional space for the college.
The structure housing the classrooms is known as Building 3 to the students and has seven floors. Each of the first four floors consists of four studio laboratories and 30 large tables or workstations that will serve as the student's working space or "office" for five years.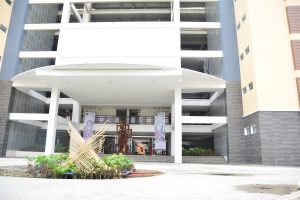 "Some of our students now live in the dorms. They hardly have space for working. And while we have some spaces here for working, the existing studios are not very conducive for overnight work. Here we will provide students with a working space where their creativity will be used to the maximum," said Professor Mary Ann Espina, who was the CA dean during the inception of the projects and helped with the fundraising.
The first four floors are complete and Espina expects the entire building to be up and running by January 2020.
Espina said the new space is part of the CA's efforts to upgrade in accordance with the Canberra Accord, a 2008 document by seven accreditation/validation agencies in architectural education intended to facilitate the portability of educational credentials between the countries.
This means that the credentials of graduates/members of one signatory association can register or undertake architectural work in countries represented by the Accord.
"This building will deliver the kind of training in architecture that is in accordance with the international code. It will mean that we will be on par with schools like Harvard and many big schools in the world. In the Canberra accord there are only two Asian countries, China and Korea," Espina said.
The CA is also home to the newly built Benito Sy Pow Auditorium, a 400-seat structure that is also part academic building.
Donated in whole by New Golden City Builders President Manny Sy to honor his father Benito Sy, the auditorium boasts of a proscenium stage. In theatre, a proscenium is the frame or arch separating the stage from the auditorium, through which the action of a play is viewed.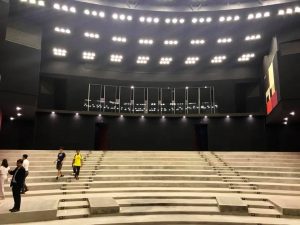 "[Manny Sy] said it's because he wanted to honor his father. His father, Mr. Benito Sy, left them the legacy of education. And he decided that he wants to make that offer to UP and very simple lang ang requirement niya: i-honor yung kanyang father. It's very touching and we were only happy to be the beneficiary of such a generous donation," Espina said.
The auditorium's doors (yet to be installed) will be made of wood, created by Rizal-based sculptor Agi Pagkatipunan.
Beneath the auditorium stage are two air vents whose air is partially cooled by an artificial pond situated outside the building and works like an evaporative air cooler, allowing the college to save in electricity during appropriate moments. The balcony areas can also be converted to thesis deliberation rooms for academic use.—Anna Regidor, images by Isha Bonus and Haraya Facebook page