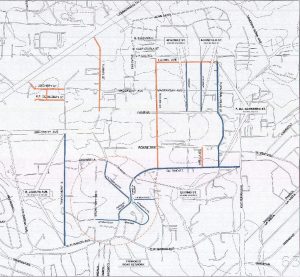 (NOV. 29)—Some 2.3 kilometers of sewer pipelines and roads are now being rehabilitated by the Manila Water Company, Inc. (MWCI) and the Department of Public Works and Highways (DPWH) to upgrade the sewage systems and maintain the roads in UP Diliman (UPD).
Parts of Ylanan, Roces, JP Laurel, Africa, RP de Guzman and Archery Streets will be undergoing maintenance until the second quarter of 2017. These are some of the busiest streets in UPD, with several jeepney routes going through them.
The MWCI is laying sewer pipelines as part of Phase 2A of the U.P. Sewer Network. After they are done, the DPWH follows and concretes the roads.
According to the Office of the Campus Architect, the roadworks are part of a three-phase project that will upgrade UPD's sewer lines and pave the less maintained thoroughfares in concrete.
Campus Architect Enrico Tabafunda said the roadworks are overdue, with some of the needed work dating back to the 1970s.
"Ngayon lang full blast after so many years kaya yun ding full effect ng development and yung mga temporary inconveniences ngayon natin nararamdaman," he said.