(MAR. 6)—The University paid tribute to 109 of its retirees at the 2020 Parangal sa mga Retirado at 2019 Gawad Paglilingkod held Feb. 27 at the UP Film Center (UPFC).
Retirado. Of the retirees, 65 were administrative personnel, 35 were faculty and 9 were from the Research, Extension and Professional Staff (REPS). Each retiree was given a UP medallion, a certificate and plaque.
The academic unit that had the most number of retirees was the College of Science (CS) with 12 retirees followed by the Campus Maintenance Office (10) and the University Health Service (6).
Faculty retirees include former officials Vice President for Academic Affairs Gisela P. Concepcion, former Vice President for Public Affairs Jose Y. Dalisay Jr., the late former Assistant Vice President for Administration Nestor O. Rañeses, former Director of the Office of Admissions Lynna Marie Y. SyCip, the late former CS Dean Perry S. Ong, former Diliman Legal Office Maria Luz S. Rañeses-Raval and former Chief of the Dietary Section Ruth Agnes L. Manalo.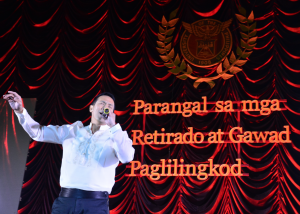 Remedios Gabriel, Administrative Officer IV of the UP Computer Center was the longest serving retiree at the ceremony with a total of 47 years of service to the University
She is one of 47 special retirees who received special awards for their long years of service, 31 of whom will be receiving the Special Retirees Award, given to those who rendered at least 40 years of unbroken service to the University and carries a one-time P60,000 cash gift.
The 16 other special retirees will receive the Special Recognition Award, granted to those who have rendered at least 40 years of cumulative service but have incurred more than five total days of leave of absence without pay (LAWP). It carries with it a one-time P10,000 cash gift.
In addition, 12 currently active employees will be granted the Service Award or Gawad Paglilingkod. The Gawad Paglilingkod is given to employees who have rendered at least 40 years of continuous service with no LAWP and carries a one-time P40,000 cash gift.
Performers. The retirees and their families were serenaded by the UP Symphonic Band Quartet, part of the UP Symphonic band.
They were followed by singer and composer Reuben D. Laurente. Part of the band The Company in 1991, he was hailed the best male recording artist in Aliw Awards in 1997, 2001 and 2007 and represented the Philippines in several international music festivals.
After the event the retirees and their families were treated to a sumptuous dinner buffet inside the UPFC.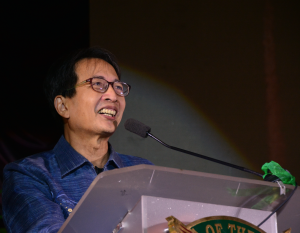 Writing about the ceremony in his weekly column in the Philippine Daily Inquirer, Chancellor Michael Tan advised that the way one thinks determines what their retirement will be like.
"Our human brain can work against us as we overthink life and complain about illnesses and boredom. But our brains, our geriatric brains, can also work for us. I've learned from our retirees, especially the ones who have served so long, Fyt included, that instead of looking for things we enjoy doing, we should learn to find joy in whatever we do, thus making life worth every moment."
The Parangal sa Retirado at Gawad Paglilingkod is one of the major events of the Linggo ng Parangal, an annual week-long festivity to recognizing the outstanding performances of its faculty, Research and Extension Professional Staff (REPS), students, staff and the community.—Anna Regidor, images by Jefferson Villacruz