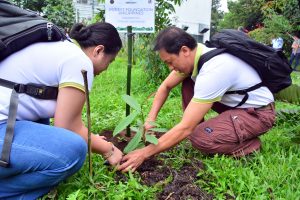 (OCT. 8)—To commemorate the 59th birth anniversary of Prof. Perry Ong, PhD, the Biodiversity Research Laboratory (BRL) of the UP Institute of Biology (UPIB) held a tree-planting activity at the IB-EDC BINHI Threatened Species Arboretum.
Ong served as IB director from 2006 to 2012 and College of Science (CS) dean from Oct. 17, 2017 until the time of his death last March 2. He was an expert in biodiversity and a pillar in the wildlife conservation movement. 
"We chose planting trees as an activity, specifically native hard wood, as a way of honoring his advocacies and also to symbolize new life," said Liza V. Duya, University Researcher I at the UPIB-BRL.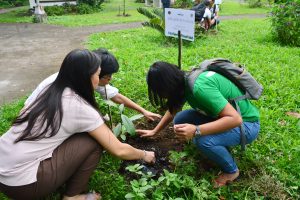 Native trees have higher chances of surviving and reproducing as they adapt well to the local climate, and known for their medicinal value. The trees planted were Kamagong, Katmon, Malakatmon, Mankono, Salingbobog and Shoebutton ardisia.
Those who participated in the tree-planting activity were the Sim-Ong family, Aquino family, UP Board of Regents member lawyer Spocky Farolan, UPIB staff and faculty members, staff of CS Dean's Office, Ong's blockmates from UP Los Baños and high school classmates from Chiang Kai Shek. 
Others who participated were representatives from the Forest Foundation of the Philippines, Energy Development Corporation, National Museum of the Philippines and the Biodiversity Conservation Society of the Philippines.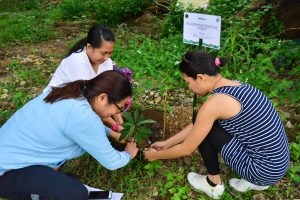 A mass was also held prior to the tree-planting activity. 
IB will also hold a free screening of "Bird of Prey" on Oct. 9, 6:30 p.m., at the IB Auditorium. Ong was a resource person of the 90-minute documentary. 
"Bird of Prey" produced by the Philippine Eagle Foundation (PEF), in partnership with the Cornell Lab of Ornithology and Neil Rettig Productions, explores the life of the critically-endangered Philippine Eagle, the threats to its survival and PEF's painstaking efforts to save the world's rarest bird. 
"The PEF suggested the free screening of Bird of Prey at IB as a tribute to Sir Perry," said Duya. — Bino Gamba, photos by Jefferson Villacruz