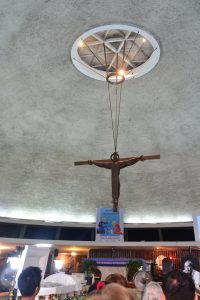 (MAR. 8)—The UP Diliman (UPD) community mourned the passing of National Artist for Sculpture Esabelio Napoleon "Billy" Veloso Abueva on Feb. 16 at the National Kidney and Transplant Institute (NKTI) in Quezon City. He was 88.
The news was announced by his daughter, Amihan, in a message posted on Abueva's Facebook page.
Honoring Abueva. A necrological service was held on Feb. 23, 7 p.m., at the Parish of the Holy Sacrifice
attended by friends, relatives, colleagues, students and UP officials.
It was organized by the UP College of Fine Arts (CFA), led by Dean Leonardo C. Rosete, as a tribute to Abueva, who once served as CFA dean from 1978 to 1989.
Special numbers were presented by the UP ARCO, UP Concert Chorus, KontraGaPi and the Loboc Choir of Bohol.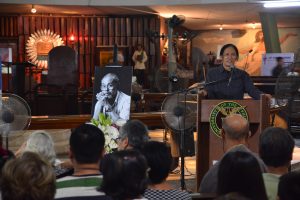 Among the guests who gave their touching eulogies were Rosete, Chancellor Michael L. Tan, UP President Danilo L. Concepcion and CFA Prof. Ruben David F. Defeo.
Rosete said when he was still a CFA student, he saw a mural at the CFA building lobby with a message from Abueva: "We do not let dreams die in the College of Fine Arts." It served as the College's guiding principle and was passed on from generation to generation of CFA students.
Tan, who enumerated some of Abueva's sculptures found at the UPD campus, said "I cannot imagine UP Diliman as UP Diliman without all his works."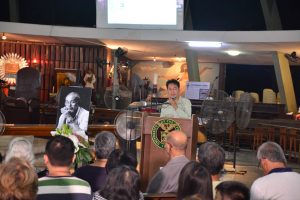 Concepcion, on the other hand, said Abueva's works "breathe life to the Filipino soul" and "his hands gave form and substance to what we imagine to be the true spirit of the Filipino. It's now up to us, as our gesture of deep gratitude to live up to his vision and to unleash the monument within each of us."
Defeo recounted that one of his memorable encounters with Abueva was when he interviewed him in the early '70s for an article featured in the "Carillon," the UP alumni publication. He said Abueva quipped that "an artist worth his salt should not only concern himself with the mastery of craft, but more importantly, the cultivation of love for the life of the mind."
Other guests who shared their fondest memories of Abueva were art historian Santiago 'Jack' Pilar, former CFA deans Florentina Colayco and Neil Doloricon, painter and art educator Araceli Dans, sculptor Tito Sanchez and UP CFA Alumni Foundation, Inc. President Romeo S.A. Carlos.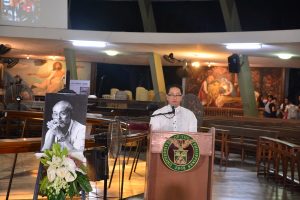 Speaking on behalf of the family were Abueva's daughter Amihan and brother Dr. Jose Abueva, former UP president.
Amihan expressed her gratitude to UP and her father's colleagues, students and friends, and recounted her father's life as an artist, administrator and mentor.
"Si Daddy palaging malikot ang isip. Marami siyang naiisip na gawin. Di pa tapos ang isang proyekto, meron na naman siyang iba pang proyekto. Ngayon ko nga nalaman dito sa burol na napakarami pala niyang pinamigay na gawa niya. At alam ko ay talagang gusto niyang maging masaya at mahal na mahal niya talaga ang lahat ng nakakasama niya," Amihan said.
She recounted how her dad would usually bring a pail of roses to work to give to his colleagues, administrative staff and people he interacts with to show them his appreciation.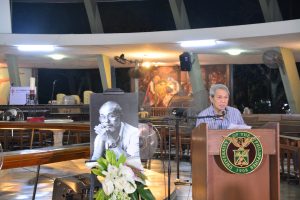 In addition, Amihan said "Para sa kanya, mahalaga rin iyung gawa ng mga estudyante at saka kapuwa artist. Kaya kapag niyayaya siya na magkaroon ng exhibition, gusto niyang isama rin iyung gawa ng iba pang mga iskultor dahil sa tingin niya, lahat dapat ay bigyan din ng pagkakataon na makilala ng ating mamamayan."
Lastly, she said "Marami nga siyang iniwang na trabaho dito sa UP, pakiusap namin bilang pamilya, sana ay maalagaan din ng Unibersidad at mapakilala sa mga batang estudyante at sa iba pang mamamayan."
On Feb. 24, Abueva was brought to the Cultural Center of the Philippines for a state necrological ceremony followed by an internment at the Libingan ng mga Bayani.
Father of modern Philippine sculpture. Abueva, who celebrated his birthday last January 26, was born in 1930 in Tagbilaran, Bohol to Teodoro Abueva, former Bohol congressman, and Purificacion Veloso, former Women's Auxiliary Service president.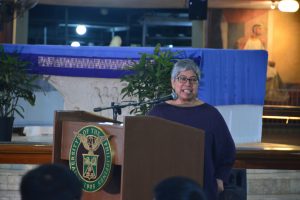 In a 2003 interview with Dr. Jose Wendell P. Capili, UP assistant vice president for public affairs, published at the National Commission for Culture and the Arts (NCCA) website, Abueva said he graduated in high school at the Rafael Palma College (now the University of Bohol) in 1949. He earned his Bachelor of Fine Arts in Sculpture at the UP School of Fine Arts (now UP College of Fine Arts/UPCFA) in 1953 as one of the second batch of Fine Arts students who moved from the old campus in Padre Faura to Diliman. He was mentored by fellow National Artist for Sculpture Guillermo Tolentino.
Through scholarship grants, he was able to pursue advanced studies abroad including one from Harvard University.
Considered the youngest National Artist awardee, Abueva was conferred the Order of National Artist for Sculpture in 1976 at the age of 46.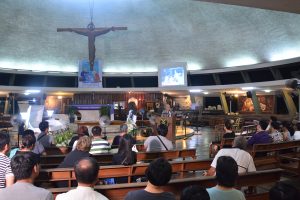 According to NCCA, he was also recognized as the "Father of Modern Philippine Sculpture" and helped shape the local sculpture scene to what it is now. He used almost all kinds of materials for his sculptures such as hard wood, adobe, metal, stainless steel, cement, marble, bronze, iron, alabaster, coral and brass. He was the first Filipino artist to mount a one-man exhibit at the Philippine Center in New York in 1980.
Some of his major works include Kaganapan (1953), Kiss of Judas (1955), Thirty Pieces of Silver, The Transfiguration (1979), Eternal Garden Memorial Park, UP Gateway (1967), Nine Muses (1994), UP Faculty Center, Sunburst (1994)-Peninsula Manila Hotel, the bronze figure of Teodoro M. Kalaw in front of National Library, and murals in marble at the National Heroes Shrine, Mt. Samat, Bataan.
He is survived by his wife, Sergia (Cherry), and children Amihan, Mulawin and Duero; sisters Ching and Inday, and brother Jose.