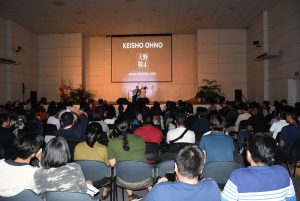 (FEB. 28) – Japanese musician Keisho Ohno amazed the audience with traditional Japanese music infused with contemporary rock beats at "Rocking Tradition: A Shamisen Concert with Keisho Ohno" on Feb. 12 at the UP GT-Toyota Asian Center Auditorium.
In the 90-minute concert, 43-year-old Keisho performed 12 songs infront of a full-house auditorium using a "tsugaru shamisen."
According to the Samurai Archives website, the "shamisen," a three-stringed instrument with a square body and played by plucking with a "bachi" (plectrum), is believed to have first emerged in Japan in the late 16th century which developed out of the Chinese "sanxian" likely introduced in Okinawa in the late 14th century. At present, it has several versions based on length and thickness of neck, size of body and tuning.
The "tsugaru shamisen" is said to be developed in the early 20th century in the Tsugaru region in the Aomori prefecture in northern Japan. It has a broad neck and produces deep sounds.
In a 2010 interview with French media, Keisho said "since shamisen is a traditional instrument, it is in the risk of declining popularity." To prevent this, he thought of infusing rock music, aside from techno, jazz and blues, when playing the shamisen so that "it can be conserved."
Keisho is the first tsugaru shamisen player to perform at the South by Southwest in US in 2006. This was followed by a five-city tour in France and Luxemburg in 2008. Since then, he has performed yearly in Germany, France, Belgium and the Netherlands, making him known in the European music industry.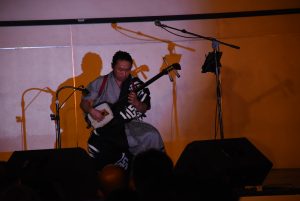 He also performed at the FIFA World Cup in Africa (2010), FIFA Women's World Cup (2011, Germany), Japan Expo (as key performer; 2011, France), OECD Ministerial Board of Directors Meeting (2014, France) and Kuwaiti National Founding Event (2015).
The free concert is co-organized by The Japan Foundation Manila and UP Asian Center, in cooperation with the Embassy of Japan in the Philippines. – by Benito V. Sanvictores Jr., photos courtesy of the UP Asian Center