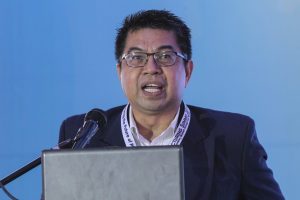 (OCT. 4)—Former UP Institute for Small-Scale Industries (ISSI) Director and UP College of Engineering (COE) professor Nestor O. Rañeses passed away today, Oct. 4. 
A former Assistant Vice President for Administration of the UP System, Rañeses has been with the University since 1977 as an associate professor of the Department of Industrial Engineering and Operations Research (IEOR). 
In 1995, he began to split his time between being a part-time Affiliate Faculty on Total Quality Management at the Technology Management Center and being a part-time professorial lecturer at the IEOR, where he was the Program Lead of the Lean Six Sigma Collaborative. 
He was ISSI Director from 2010 to May 2019. 
Rañeses earned his Master of Science in Industrial and Systems Engineering from Georgia Institute of Technology in 1981. Before that he pursued graduate studies in Energy and Systems Engineering from the University of Wisconsin in 1984 and 1985. He became a research exchange scientist on ergonomics at Kanagawa University Yokohama in 1990. Prior to this, he earned his Bachelor of Science in Industrial Engineering and Operations Research from UP Diliman in 1977. 
Rañeses has more than 30 years of leadership experience and executive responsibility. Starting from the academe as IEOR chair, he assumed key management positions at private companies AMIS Semiconductor (1998-2008), ON Semiconductor (April-September 2008) and at Maxim Integrated Products (February-August 2009).
Among his expertise is a solid mastery of Lean Six Sigma, total quality management, quality function deployment (QFD), value engineering supplier quality management, and business excellence postulates, models, methods, best practices and effective execution of improvement changes.
Rañeses was born on Oct. 20, 1955.—Anna Regidor
---
Photo credit: http://industry.gov.ph/photo-album/manufacturing-summit-2016-breakout-session/20161128_nppa-vfd_00009115/