The UP Integrated School (UPIS) announced the passing of Professor Emeritus Natividad J. Munarriz, PhD on Aug. 5.
She was conferred the title professor emeritus (education) on March 1, 1990.
According to the UPIS Facebook page, Munarriz served as the school's principal, guidance counselor, and mentor.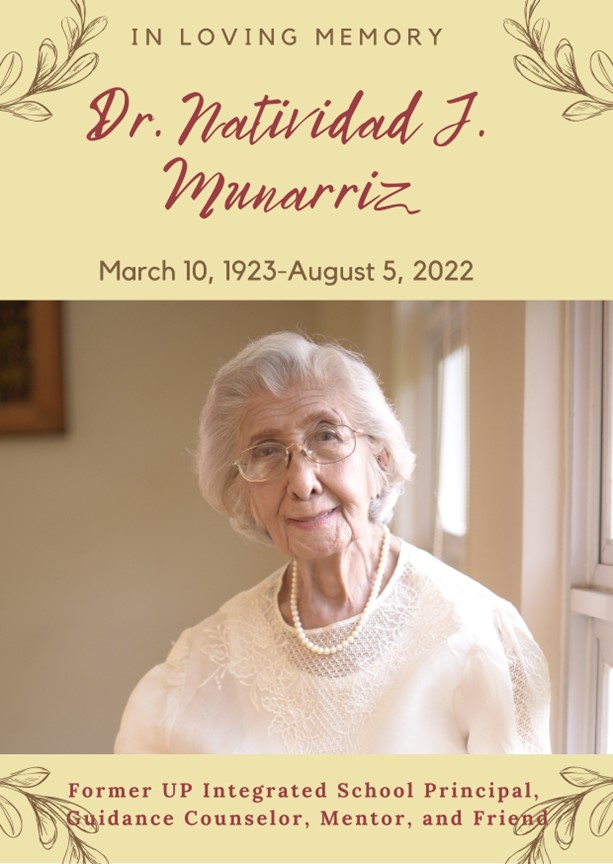 Munarriz was an expert and one of the pioneers in guidance and counseling in the country.
In a 2016 video for the UPIS centennial homecoming celebration, she explained how she ended up in the field. She recalled the instances that made her think and consider studying the then relatively new field in education, "I think I made the decision in the middle of the Pacific [Ocean], and I said if they would accept me in the guidance department, if there is one at Stanford (University)…," she said.
Three months before she left for the United States, her aunt told her to pursue guidance and counseling. Isidro Panlasigui, the then dean of the UP Diliman College of Education, gave the same advice just two weeks before her flight. And even a co-passenger who was a faculty member at the Philippine Normal College (now University) said the same thing.
To watch the video, click here.
In 2013, Munarriz published Psychological Testing in the Philippines: Practice, Directions, and Perspectives, a practical and easy guide in teaching and learning psychological testing.
According to the UPIS, her family is arranging the details of the wake and funeral and will be posted as soon as these are available. Meanwhile, an online novena prayer sponsored by the Munarriz family began on Aug. 6, 6 p.m. and will last until Aug. 14. For those interested in joining the novena, the Zoom ID is 89448347486, passcode: Natividad.