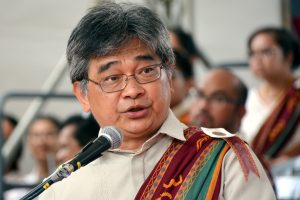 (March 4)—Biology professor and UP Diliman (UPD) College of Science dean Prof. Perry S. Ong, PhD, passed away on March 2, due to massive heart attack at the Metropolitan Hospital in Binondo, Manila.
Ong was a Professor 11 at the Institute of Biology, where he served as director from June 2006 to June 2012. He earned his PhD in Behavioral Ecology and Evolutionary Biology from the Monash University, Australia in 1995.
His research interests and expertise were in urban biodiversity, tarsier biology, ecology systematics, forest restoration, DNA barcoding, biology of Philippine wildlife, biodiversity conservation and monitoring of geothermal production fields. He has contributed significantly to the conservation of the critically endangered Philippine Eagle Phithecophaga jefferyi and the near threatened Philippine tarsier.
Ong is author to 30 journal articles, four books, 13 book chapters, three field guides, two published reports, 24 proceedings in scientific conferences, five online publications, 69 contributions to the 2004 Amphibian Assessments in the IUCN Red List, 42 contributions to the 2008 Mammal Assessments in the IUCN Red List, 20 contributions to the 2014 Mammal Assessments in the IUCN Red List; one book review (post publication), one book review (pre-publication), six articles in magazines and newspapers; and two unpublished reports. 
Ong, who has a rank of UP Scientist III, was a recipient of several awards and citations, among them: the 2016 Concepcion Dadufalza Award for Distinguished Achievement, 2009 Gawad Chanselor para sa Natatanging Guro, the 2004 Hugh Greenwood Environmental Science Award by the National Academy of Science and Technology-Philippines and the Outstanding Young Scientist award in 2000.
He is survived by his wife Prof. Susan Aquino-Ong of the College of Agriculture in UP Los Baños, his son Leandro Martin, daughter Patricia Karol and parents Ong De Heng and Pacita Sim Ong.
His body lies at the Sanctuarium in Araneta Avenue, Quezon City. Cremation will be on March 7, Thursday, 10 a.m. Necrological service in UPD will be held on March 21, Thursday, 3 p.m. at the Institute of Biology Auditorium.— Bino Gamba