The UP Diliman (UPD) National Service Training Program (NSTP) signed an agreement with the Philippine National Volunteer Service Coordinating Agency (PNVSCA), formalizing and expanding ongoing partnerships between the two.
NSTP Director Dennis F. Quilala said the NSTP has long been working with the PNVSCA in promoting volunteerism in the University. Many of their Sikhay Lingkod (in person and online volunteerism fairs) main resource persons were from the PNVSCA.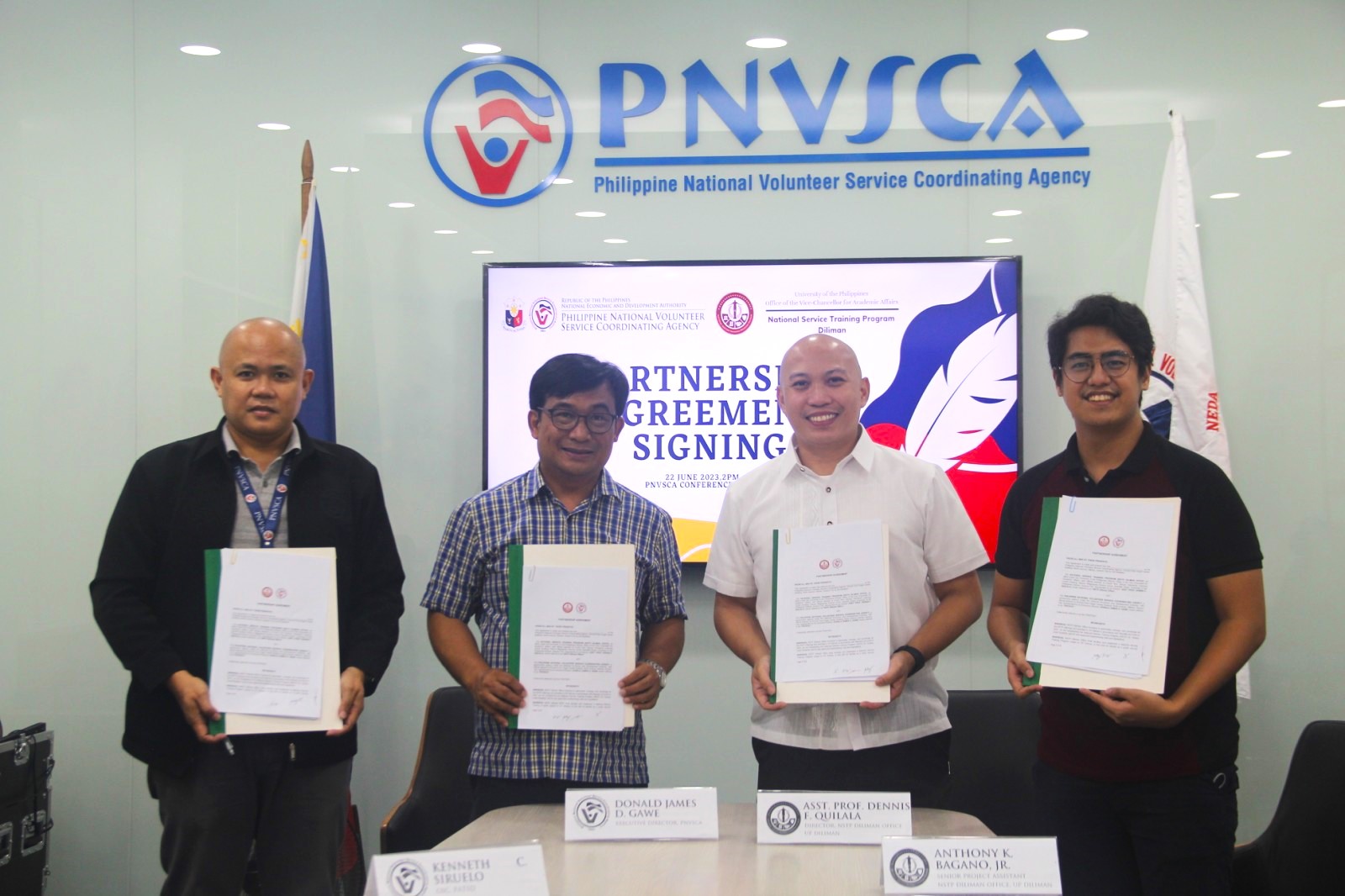 "This year, we decided to formalize that relationship with a partnership agreement [through] PNVCSA Executive Director Donald James Gawe. We have a solid informal partnership with the PNVSCA. This will continue in our promotion of volunteerism in UPD. A partnership agreement enhances this relationship. This will also provide an opportunity for the NSTP Diliman Office and UPD to assist other higher education institutes (HEIs) and local government units (LGUs) in their management of volunteers," he said.
Quilala, PNVSCA Officer-in-Charge Kenneth Siruelo, and NSTP Senior Project Assistant Anthony Bagano Jr. were the agreement's prime movers.
Quilala is an assistant professor of political science at the UPD College of Social Sciences and Philosophy.
In a report by Jeffrey Almazan of the PNVSCA, the agreement was signed last June 22 at the PNVSCA office in Quezon City, led by Gawe and Quilala. Gawe expressed the PNVSCA's readiness to provide support for the initiatives stipulated in the partnership agreement.
Quilala said, with the agreement, the PNVSCA will not only provide inputs for students under the NSTP but will also take part in organizing a seminar for NSTP coordinators and teachers. At the same time, the PNVSCA will continue to help us in the NSTP Sikhay Lingkod Program.
In return, the NSTP will provide technical assistance to PNVSCA partners, which include other HEIs and even LGUs.
The agreement is expected to benefit approximately 2,500 NSTP students in AY 2023-2024, NSTP coordinators and teachers, HEIs, and LGUs.
Now on its sixth year, the Sikhay Lingkod Program is an annual forum featuring volunteer groups nationwide to talk about the various aspects of volunteerism as well as their groups' advocacies towards introducing students to various programs and projects that support the development of the different sectors of society. "[The] PNVSCA has been a constant partner in promoting volunteerism in UPD. The partnership agreement provides us with an opportunity to widen our scope as we collaborate with HEIs and LGUs. This is part of UP's mandate as the national university. This is also part of the 2021 NSTP implementing rules and regulations' aim to promote volunteerism among our students. The NSTP Diliman Office and the PNVSCA will be partners in promoting volunteerism in the country," Quilala said.