(JUL 13)—After 16 months of renovation, the UP Computer Center was inaugurated Jul. 12 with UP President Danilo L. Concepcion and former center directors as special guests.
With its new facilities, the Center is envisioned to serve as UP Diliman's model building for information and communication infrastructure. The renovation was undertaken through the Office of the Campus Architect.
Located along the Magsaysay Street, the Center maintains the Diliman Network, which the Center describes as "one of the largest networks in the country" and comprises "more than 50 kilometers of fiber optic cables, deploying over 300 managed wireless hotspots, 1,300 VoIP phones and hosts over 50 UP Diliman websites through its servers."
Created in 1966 and starting operations two years later, the Center now provides and maintains "high speed connectivity to the Internet and inter-unit data and voice connectivity within the campus. It also provides hosting and data-encoding services and maintains DILNET accounts used for accessing many ICT services in UPD such as the Webmail, CRS, UVLe, iLib, among others."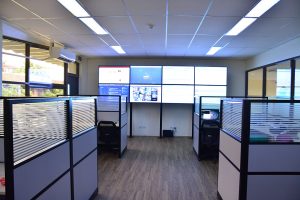 Among the guests were Vice President for Development Elvira A. Zamora, PhD, Campus Architect Enrico B. Tabafunda and former Center directors Prof. Nestor Tiglao, PhD and Prof. John Rob Bantang, PhD.