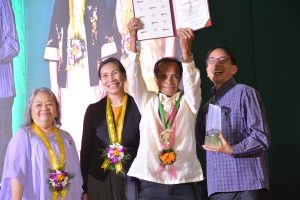 (JUN. 21)—Active employees with long but broken service records have something to look forward to this year with the granting of a new service award at the 25th Parangal sa Retirado at 2018 Gawad Paglilingkod held on Jun. 20 at the GT-Toyota Auditorium. 
Starting this year, the Special Recognition Award will be granted to employees who have rendered at least 40 years of cumulative service but have incurred more than five total days of leave of absence without pay (LAWP). It carries with it a one-time P10,000 cash gift. 
According to the Human Resources Development Office, a total of 55 employees will be granted the Special Recognition Award, 13 for employees who fulfilled the requirements in the year 2018 and 42 employees who fulfilled the requirements from 2014-2017. 
"Bakit po tayo nagbibigay ng special recognition award? Ito'y pag-kikilala na ang 40 taon ay talagang 40 taon. 40 is 40 years whether tuloy-tuloy o hindi. Sa kauna-unahang pagkakataon ay kikilalanin natin ang 55 kawani na bibigyan ng special recognition award," said Vice Chancellor for Administration Virginia C. Yap in her opening message. 
In addition, 25 currently active employees will be granted the Service Award or Gawad Paglilingkod. The Gawad Paglilingkod is given to employees who have rendered at least 40 years of continuous service with no LAWP and carries a one-time P40,000 cash gift. 
Retirado. The 112 retirees—who were the heart of the ceremony—were recognized for their long years of service to the University. 
Each retiree was escorted to the stage to receive a triptych containing a certificate of service, a medal in the form of the UPD seal and a fiberglass trophy signed by Chancellor Michael L. Tan. 
Among them, 33 were granted the Special Retirees Award, given to those who rendered at least 40 years of service to the University and carries a one-time P60,000 cash gift. 
The College of Science had the most number of retirees at eight, composed mostly of administrative staff and two faculty members. The retirees served an average of 32 years in service. 
The longest serving retiree at 47 years was Manuel Gandeza, an Administrative Assistant V at the UP Law Center who has been with UP Diliman since he was 18 years old. The second longest serving retiree was Vilma Punzalan, an Administrative Assistant I at the Institute of Biology, who served for 45 years. 
The retirees also included 23 faculty members, six of whom carry the rank of Professor 12: Edgardo Atanacio of the College of Engineering, Florecita de Guzman and Polly Sy of the College of Science, Laura Samson of the College of Social Sciences and Philosophy and Bienvenido Jose Aragon of the Cesar E.A. Virata School of Business. 
Performances. The afternoon featured two special performances, one from the Alunalun Dance Circle, a folk dance group established in 1999 to preserve and develop traditional dances of southern Philippines such as pangalay and martial dances like langka and kuntao. They performed a "Tawti," or a dance of the fisherman depicting a fisherman's difficulty in catching catfish. 
They were followed by the HRDO (Human Resources Development Office) Tribu Dancers, a group of employees from the HRDO, the Business Concessions Office and the Office of Student Housing who performed "Sayaw ng Taos-Pusong Pasasalamat ng HRDO para sa Aming Retirado at Gawad Paglilinkod."
Messages. Speaking at the ceremony, UP Diliman (UPD) Chancellor Michael L. Tan encouraged the retirees to do three things: be more conscious about their bodies and the changes these are going through, keep their minds active through reading and other mental exercises and to be brave in the face of illness. 
"Maging mandirigma. Huwag tayong matakot sa mga iba't ibang mga sakit. Kung may sakit tayo, lumaban tayo. Kahit yung maliit na bagay.…Let us meet the challenges of older age. Huwag tayong matakot dito," he said. 
For her part, Vice Chancellor for Academic Affairs Evangeline Amor encouraged the retirees to remember their time in UPD with fondness and look forward to doing more of the things they love. 
"Marahil po ilan sa inyo sabik sa pagretiro, meron din naman po siguro na parang dumating na lang na 'Uy magreretire na pala ako.'" Pero sana po manaig ang kasabikan sa panahong mapagbigyan naman ninyo ang inyong sarili at magawa ang mga bagay na gusto ninyong gawin. Magiliw po sana ninyong alalahanin ang mga alaala na nalikha sa panahon ninyo dito sa ating mahal na unibersidad," she said. 
After the ceremony the retirees, officials and their familes were treated to a small dinner at the GT-Toyota Asian Center grounds. 
The Parangal sa Retirado at Gawad Paglilingkod is one of the major events of the Linggo ng Parangal, an annual week-long festivity to recognize the outstanding performance of its faculty, Research and Extension Professional Staff (REPS), students, staff and the community.
For more photos of the ceremony, check out the UP Diliman Facebook Page.—Anna Regidor, images by Leonardo Reyes