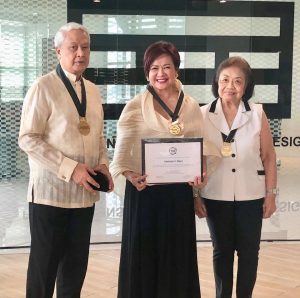 Prof. Adelaida V. Mayo, PhD of the Department of Clothing, Textile and Interior Design, College of Home Economics (CHE) was admitted to the Philippine Institute of Interior Designers (PIID) College of Fellows on May 26. 
A PIID College Fellow is the highest honor PIID grants to its member "in recognition of his/her valuable contribution to the advancement of the profession of Interior Design which brings honor and prestige to the organization and the Filipino people." As PIID Fellow, one is expected to serve as mentor and uphold honor and excellence in all of PIID's advocacies and activities.
PIID, established in 1964, is an accredited institute of Philippine government as a community of professional interior design practitioners advancing the profession through accreditation, education, knowledge sharing, legal recognition and public outreach. 
Mayo's area of specialization is in interior space programming, design color theory and research strategies for interior design. She served as reviewer for refereed international and local journals and has presented numerous papers in international and local conferences.
A member of the Phi Kappa Phi Honor Society, Mayo received the Academic Program Improvement Grant by the UPD Office of the Vice Chancellor for Academic Affairs (July 2017 – June 2018); the Leonardo Ty Professorial Chair (July 2007 – February 2008).
Mayo is currently President of the Council for Interior Design Educators. She also served as dean of CHE from June 2009 until May 2012.