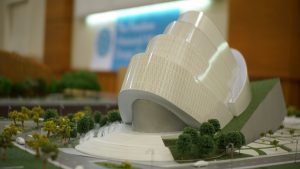 (SEPT. 23)—A museum and memorial dedicated to honor the memory of the victims of the state violence and oppression during President Ferdinand E. Marcos's Martial Law will be built inside the UP Diliman campus infront of the Commission on Higher Education (CHED) building.
Named "Freedom Memorial Museum," the flagship project of the Human Rights Violations Victims' Memorial Commission (HRVVMC) will house a roll call or list of names of the victims. It will also house relevant memorabilia, artifacts, educational materials and audiovisual content which will be open to the public.
Speaking at the event, HRVVMC Executive Director Carmelo Victor Crisanto said the University donated 1.4 hectares of land beside the new College of Fine Arts Arts and Design West Hall, where the Campus Maintenance Office building now stands.
The museum will be built in the shape of a fist rising from a brutal edifice. The fist is a universal symbol for resistance while brutal architecture—which uses raw, unfinished concrete set in bold, geometric forms—was common during the Martial Law period.
"This is our contribution to the international community of human rights museums. Lahat ng ilalagay natin, walang propaganda. Katotohanan lamang. The memorial commission is very strict that the truth should be triangulated and that triangulation could be made by taking various perspectives. What I'd like young people to do is look at the facts and create their own conclusion. These are not voices, these are evidences," he said.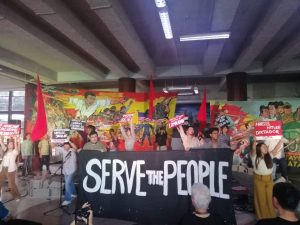 The museum's architectural perspective was screened publicly during the opening program of the UP Day of Remembrance 2019, held at Palma Hall lobby.
UPD Vice Chancellor for Research and Development Fidel Nemenzo read UPD Chancellor Michael L. Tan's message while UP Vice President for Public Affairs Elena Pernia read UP President Danilo L. Concepcion's.
In 2018 the UP System declared Sept. 21 of every year as the UP Day of Remembrance in honor of the University's contributions in resisting the dictatorship during Martial Law and the "continuing need for awareness vigilance and militancy in the assertion and protection of our fundamental freedoms."
This year's celebrations featured live performances and film screenings around the theme "Dambana ng Paggunita at Pagtutuos sa Batas Militar ni Marcos."—Anna Regidor, image from the HRVVMC Facebook Page and Ina Azarcon-Bolivar