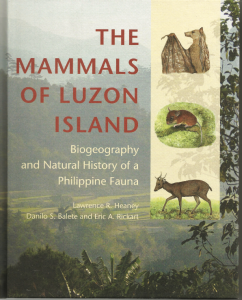 The UP Institute of Biology (UPIB) in partnership with the Diliman Science Research Foundation and the Philippines Tropical Forest Conservation Foundation launched the book "Mammals of Luzon Island: A Biogeographic Perspective in Evolution, Ecology and Conservation" on Aug. 10 at the UPIB Auditorium.
Authored by Dr. Lawrence R. Heaney, Dr. Danilo S. Balete and Eric A Rickart, and published by The Johns Hopkins University Press, the book reveals that Luzon Island has the greatest concentration of distinct species of mammals in the world.
According to UPIB, "the book is the result of Dr. Heaney's more than 35 years of extensive research on Philippine mammals in various parts of the Philippine archipelago, with the last 16 years focused on Luzon Island.  All throughout Dr. Heaney's research endeavors in the Philippines, he worked closely with the UPIB and other units, namely, the Department of Environment and Natural Resources (DENR), specifically the Biodiversity Management Bureau (BMB)."
Heaney is the Negaunee Curator of Mammals at the Field Museum of Natural History in Chicago, Illinois, USA and is an adjunct professor at the UPIB.
The event was highlighted by a short lecture by Heaney and Balete on the major findings of the book.
Heaney said, "It is not Brazil, nor Madagascar, not even the Galápagos Islands that has the most stunning and extraordinary mammals I have ever come to know of, but in the islands of Luzon in the Philippines."
Heaney attributed Luzon's geological background as the reason for the abundance of unique mammals in the area.  "Luzon is made up of so many islands and isolated mountain ranges.  It is 27 million years and may be considered as the oldest oceanic island and has never been connected to any continental land—the species have been isolated, so has had time to evolve and diversify greatly."
The 28 species of native non-flying mammals discovered in Luzon when they started their research in 2000 doubled to 56 at the end of 2015. Fifty-two of these species live nowhere else in the world, making Luzon the highest known concentration of endemic mammals in the world.
The authors also pointed out the urgent need to conserve the natural resources especially the forests. They explained that these unique mammals only thrive when old growth forests are protected and secondary growth are allowed to regenerate.
To raise awareness on the unique mammals of Luzon, encourage further research and promote the conservation of their forest habitats, 1,000 copies of the book were donated and distributed to key government agencies, local government units, academic institutions and civil society organizations.
Heaney said "the book aims to make their research study accessible to a wider audience and be a source of information on Philippine biodiversity. It may also be used as a high school and college textbook."