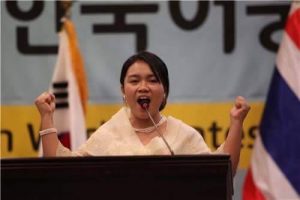 (SEPT. 23)— Maria Concepcion Loren R. Chua, a BA Linguistics student of the College of Social Sciences and Philosophy (CSSP) bested 17 other competitors by winning the Korean Ministry of Education Award at the 21st World Korean Speech Contest on Jul. 30 in Bangkok, Thailand.  The event was organized by the Korean Orators Association.
In her speech, delivered fully in Korean, Chua emphasized the importance of educating the Filipino youth about the good relations between Korean and the Philippines.  She also conveyed her hopes for more opportunities for overseas student programs to be supported by the governments of the two countries in order to open more avenues for cultural exchange and solidarity.  Chua also expressed her plans of becoming an educator to be of use in fulfilling those dreams.
Chua was one of the 18 foreign delegates who competed.  Each contestant would deliver a 4-minute piece on the topic, Korean Education: A Long-Term Plan.  Each participant was judged based on the following: content, voice, stage presence, audience impact and time limit.
She was also the Philippines representative at the World Korean Speech Contest in 2015, having won the grand price at the national level. Other awards included were the Presidential Award, given to a Korean residing in Thailand, Prime Minister Award, and Ambassador's Award which were given to Korean citizens. Chua ranked first at the non-Korean (foreigner) category.