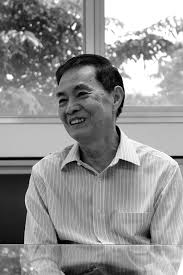 (MAR. 29) – Retired UP Diliman (UPD) Prof. Benito O. Lim passed away on Mar. 21. 
Lim served UP in the late 1950s as an instructor at the UP Los Baños College of Forestry, then at the UP campus in Tarlac in the 1960s. He left teaching to pursue his master's degree, first in UPD, then at the University of Pennsylvania, USA where he finished MA Communication in 1970.
He returned home and was hired by UPD where he taught Asian Studies at the Asian Center (AC), communication and journalism at the College of Mass Communication and political science at the College of Social Sciences and Philosophy. He also taught at the Chinese Studies Program of the Ateneo de Manila University School of Social Sciences.
His fields of expertise were Chinese studies, communication, foreign policy and economics. He authored several papers and book chapters on these topics published in local and international journals and books like the "Asian Studies" journal of AC, "Diwa: The Philippine Journal of Ideas," and "American Journal of International Law." His works were often cited by local and international authors for their researches. – Benito V. Sanvictores Jr., photo courtesy of Teya Sabado of Ateneo UCPRO