The latest issues of UP Diliman's (UPD) three refereed journals "Humanities Diliman" (Vol. 13 No. 2), "Science Diliman" (Vol. 28 No. 1) and "Social Science Diliman" (Vol. 12 No. 1) are now online.
Edited by Dr. Reuben Ramas Cañete, "Humanities Diliman" has six articles: "Ang Talaban ng Pangingibabaw at Pagtutol sa Pangingibabaw sa Manga Tagobilin sa Manga Dalaga ni Antonio Maria Claret (Dominance and Defiance in Antonio Maria Claret's Manga Tagobilin sa Manga Dalaga) by Pauline Mari Hernando; "Kuwentong Buhay ng Isang Pambansa-Demokratikong Rebolusyonaryong Bakla sa Rehiyon ng Katimugang Mindanao (A Life Story of a Gay National-Democratic Revolutionary in Southern Mindanao Region)" by Rowell D. Madula; "Binukot at Nabukot: From Myth to Practice" by Maria Christine Muyco; "The Ube ("Roots") Generation" by Tabitha Espina Velasco; "Alternative Epistemologies in Budjette Tan and Kajo Baldisimo's TRESE" by Ana Micaela Chua and "The Possibilities and Problems of Entanglement in Contemporary Manila Theater: Pista as Model, Rizal X as Exemplar" by Sir Anril P. Tiatco.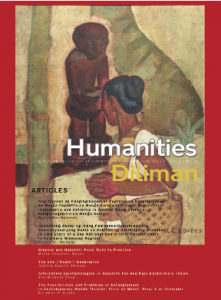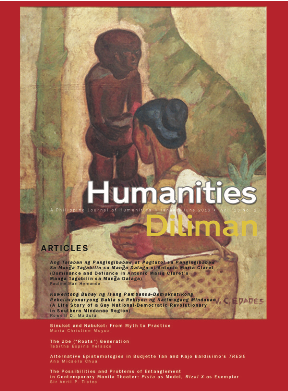 Humanities Diliman. Cañete said the current issue revisits the "six sites of hybridity that underlie the links and nodes that defined empire and colony, nation and migration, domination and resistance, homogeneity and difference, and ritualized carnivals as spaces of critical reflection and imagination."
Hernando's article focuses on the study of colonial domination over the Filipina body and her performativity as docile.  The article's abstract said it seeks to "deliberate the actuality of colonial power and social order in the context of the rules directed at women, and now  Claret's paper presents how the dialectical status of women, at the bottom of the social hierarchy based on the new discourse on social power, was constituted and established through the imposition of colonial authority."
Madula attempts to analyze the life and experiences of a gay member of the Communist Party of the Philippines-New People's Army-National Democratic Front of the Philippines (CPP-NPA-NDFP) from the Southern Mindanao Region.
Muyco's paper is about "the binukot's actual practice, including her present life living as a nabukot, a transformed status she gains when she gets married" and interlaced her "ethnographic observations regarding these states as part of a reconsideration of feminism from both Western and indigenous perspectives."
Espina-Velasco's study explores her Guamanian-Filipino heritage, using the word "ube" to characterize the generation of her grandmother—the initial generation in their families to immigrate to Guam from the Philippines, after the post-WWII migration surge.
Chua's essay presents a reading of Budjette Tan and Kajo Baldisimo's Trese "as a text grounded in particular social epistemologies, which allows the text to speak of Metro Manila as a unified entity where people share realities and myths."
Tiatco's study utilizes the postmodern theory of entanglement in arriving at a conceptual idiom for the understanding of contemporary theater in Manila where pista (fiesta) is used as model and the play Rizal X as example. In his abstract, the author mentioned that "Rizal X is treated as a microcosm of the pista because it has entangled representations, histories, relationships, and genres in the same way that the pista performs such entanglement."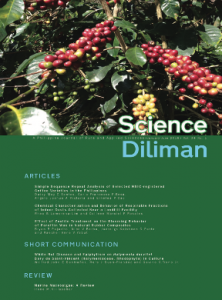 Science Diliman. Meanwhile, "Science Diliman" features three articles, one short communication and a review.
The articles are "Simple Sequence Repeat Analysis of Selected NSIC-registered Coffee Varieties in the Philippines" co-authored by Daisy May C. Santos, Carla Francesca F. Besa, Angelo Joshua A. Victoria and Ernelea P. Cao; "Chemical Characterization and Behavior of Respirable Fractions of Indoor Dusts Collected Near a Landfill Facility" by Rheo B. Lamorena-Lim and Colleen Maricel F. Rosales; and "Effect of Zeolite Treatment on the Blooming Behavior of Paraffin Wax in Natural Rubber Composites" by Bryan B. Pajarito, Nico V. Berba, Jadreign Keisheen C. Parto and Raechel Anne V. Yabut.
The first article discusses the simple sequence repeat (SSR) markers to distinguish and correctly identify the varieties Arabica, Robusta and Liberica. According to the study, the proper identification of coffee varieties determines their market value or importance.
Lamorena-Lim and Rosales's article discloses the potential risks brought about by airborne or inhalable particulate matter within the vicinity of a landfill facility (Payatas dumpsite in Quezon City) under different relative humidity conditions.
The last article is a study on "how three different chemical treatments of natural zeolite filler, namely acid activation, ion exchange with a tertiary amine salt, and organic modification with a non-ionic surfactant, affect the blooming of paraffin wax in vulcanized natural rubber."
The short communication "White Rot Disease and Epiphytism on Halmenia durvillei Bory de Saint-Vincent (Halymeniaceae, Rhodophyta) in Culture" highlights the incidence and negative effects of white rot disease and heavy infestation of epiphytes (plants that grow and use the host plant for support) on cultured red alga, which usually results in significant losses in biomass and potential profit."  Wilfred John E. Santiañez, Hera J. Suan-Flandez, and Gavino C. Trono Jr. authored the paper.
"Marine Macroalgae: A Review" by Irene Villaseñor underscores the significant contributions of NAST Academician Marco Nemesio E. Montaño in the post-harvest technology of seaweed production.  Villaseñor said the review "is limited to the research done on the optimization of extraction methods to enhance the quantity and quality of hydrocolloids, specifically agar and carrageenan, from red seaweeds; and the characterization of the physicochemical properties of the hydrocolloid extracts."  She is the editor of "Science Diliman."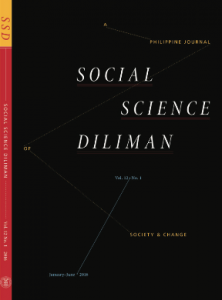 Social Science Diliman.  The issue edited by Dr. Ma. Mercedes G. Planta has three articles, historical notes, two book reviews and two essays on the Faculty Center.
Planta said the journal brought together "works on education, language and history," held together by the "commitment to pursue new paradigms and new ways of looking at both old and new issues while challenging or refining the current mode of analysis.
The three articles are "Inclusive Education in the Philippines: Through the Eyes of Teachers, Administrators, and Parents of Children with Special Needs" by Michael Arthus G. Muega; "Sariling atin: Ang nagsasariling komunidad na pangkomunikasyon sa disiplinang Araling Pilipino" by Ramon Guillermo; and "Lagda ni Andres Bonifacio: Paghamon sa tadhana, himagsikan, at pagtupad sa kapalaran ng sambayanang Pilipino" by Epifanio San Juan Jr.
Muega's article is about the knowledge and involvement of school teachers, school administrators and parents of children with special needs in implementing inclusive education.  Inclusive education lets children with and without disabilities learn together in a general education setting.
Guillermo's piece discusses the possibility of a Philippine Studies community or Araling Pilipino (AP).  He "decenters ethnicity, nationality and provenance as qualifications for inclusion in the community of scholars in Philippine Studies."  This inclusive community constitutes what Guillermo call autonomous Philippine Studies.
Meanwhile, San Juan's work describes the Philippine society's contemporary realities, particularly its socio-economic imbalances.  "The roots of these realities," Planta said, "are traced back to the feudal political economy in the 19th century, particularly with the opening of the Philippines to world commerce at the end of the Manila Galleon."
The journal also features Ramon Guillermo's "Siempre he encontrado en dicho camarada un verdadero espiritu revolucionario:" Tala hinggil sa ilang bagong tuklas na dokumento sa Arkibo ng COMINTERN hinggil sa mga mandirigmang Pilipino sa Espanya na kaanib sa Brigada Internacional (1936-1939)."  The author shares newly found documents from the declassified archives of the Communist International (Comintern) on the Filipino combatants who fought with the Republicans during the Spanish Civil War,  giving new information on the history of communism in the Philippines.
In addition, the issue has reflective essays from Gemino H. Abad and Ricardo T. Jose that pay tribute to the Faculty Center and reviews for the books "Representing Children in Chinese and U.S. Children's Literature," edited by Claudia Nelson and Rebecca Morris and "Hidden Lives, Concealed Narratives: A History of Leprosy in the Philippines" edited by Maria Serena I. Diokno.
Printed versions of the three UPD journals are now available at the Office of the Vice Chancellor for Research and Development.