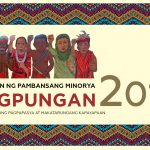 (Sept. 15)— Minority groups from all over the country will once again showcase their rich culture and traditions in Hugpungan 2017, to be held on Monday, Sept. 18 at the University Theater at UP Diliman.
The show features performance numbers such as a retelling of the Bangsamoro history, the Manobo chant and courtship ritual, traditional dances from Western Mindanao, along with performances from the Mangyans, Dumagats and the Igorots of the Cordillera.
Two shows are slated, the first at 3 p.m. and the last at 7 p.m.
Organized by the Office of the Chancellor and the National Minorities Alliance (SANDUGO), the show will also feature performances from Bayang Barrios, UP alumna, musician and Lumad from Agusan del Sur and the UP Filipiniana Dance Group.
Hugpungan was first staged in 2016 as a highlight of Lakbayan, a caravan of national minority groups who travelled to Manila to bring their concerns to national attention. In solidarity with the Lakbayanis, UPD has hosted the national minorities since their first caravan in October 2015.
This year, the Lakbayan happens from Aug. 31 to Sept. 21 and comprises Moro evacuees from Marawi City, the Lumads, the Tumandok/Ati from Panay, Mangyan from Mindoro, Dumagat from Quezon and Rizal, Aeta from Central Luzon and Cagayan Valley and minority groups from the Cordillera in Luzon. They are currently camped at the former Stud Farm along C. P. Garcia Avenue.
The Lakbayan ng Pambansang Minorya 2017 primer articulates four urgent concerns: martial law in Mindanao and the all-out war in Oplan Kapayapaan; the plunder of their ancestral lands; intervention of the United States in the war in Marawi, among others; and the need to resume peace talks between the National Democratic Front of the Philippines and the government.
Control tickets are available at the following: Office for Initiatives in Culture and the Arts, Dulaang UP, Kampuhan site and at the administrative offices of the following colleges: Architecture, Arts and Letters, Asian Center, Fine Arts, Human Kinetics, Mass Communication, Social Work and Community Development.