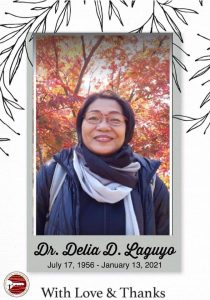 (JAN. 18)—The Office of Counseling and Guidance (OCG) mourns the loss of Guidance Services Specialist (GSS) Delia D. Laguyo who died Jan. 13 after a long and fierce battle with cancer. She was 64.
An office under the Office of the Vice Chancellor for Student Affairs (OVCSA), OCG made the announcement of her passing on their Facebook page on Jan. 16.
Laguyo served UP Diliman for 33 years. She began as a graduate assistant on Jan. 15, 1982, then as a library aide at the College of Science on Aug. 1, 1987 before transferring to OCG as Guidance Services Specialist GSS on Oct. 1, 1992, where she remained for 28 years until she opted to retire last Jan. 31, 2020.
A dedicated professional, Laguyo worked as an examiner for pre-employment and scholarship psychological testing and for qualifying examinations in graduate and certificate programs in different UP units particularly in the Diliman Extension Program in Pampanga.
She also chaired the annual University Job Fair, an OCG major event, on several occasions.  She chaired the event for the last time in 2016.
She was resource speaker and facilitator in various training, seminars, and other student-related activities in different colleges in and out of UP, and held various administrative positions such as OCG Special Disbursement Officer and even as Vinzons Hall Building Administrator.
Laguyo received the 2013 Gawad OVCSA for her more than 25 years of service in UP.
Laguyo also served as examiner for the UP College Admissions Test (both on-campus and provincial assignments).
Affectionately known as "Ma'am Delia," Laguyo served as a motherly figure to her co-workers, who describe her as "a dear friend who believes and trusts in God no matter what she is experiencing, even taking time to send messages of love and concern."
Some of the encouraging words she was known for are "continue to be an advocate of kindness to others," "smile lang; miss ko na ikaw," and "continue your journey to read and follow God's plan for you."
A woman with deep faith in God, Laguyo sent the following message to her co-workers during her last months: "My mind says I am strong, but my body aches. God is good, He always sustains my strength. Let us praise and thank God together!"
In their announcement, the OCG staff thanked Ma'am Delia for "your life well spent and shared with all of us and for your service to our students! We will miss you dearly!"