The newly-established University of the Philippines Symphony Orchestra (UPSO) successfully held its inaugural concert "Ang Unang Pasko ng UP Symphony Orchestra" on Dec. 13, 6 p.m. at the University Amphitheater.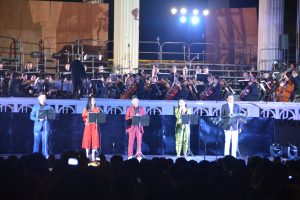 Under the baton of College of Music (CMu) Prof. Josefino "Chino" Toledo, the 65-member UPSO performed both classical and contemporary orchestral works for Christmas, including works of National Artists for Music Lucio San Pedro (1913-2002) and Ryan Cayabyab.  The orchestra consists of alumni, faculty members, staff and students from varied constituent UP universities.
The concert. UPSO opened the night with "Festive Overture in A major, Op. 96" by Dmitri Shostakovich (1906-1975), followed by "Glorious Sounds of Christmas," as arranged by Dwight Gustafson and "Bugler's Holiday" by Leroy Anderson (1908-1975).
The ConChords, a multi-awarded CMu acapella choir, serenaded the crowd with "Krismas Na, Darling" medley featuring "Pasko Na, Sinta Ko," "I'll Be Home for Christmas" and "Merry Christmas, Darling" and "Mundo'y Tahimik" medley featuring "O Holy Night," "O Little Town of Bethlehem" and "Payapang Daigdig." Toledo arranged both medleys for the concert.
UPSO then rendered the playful Anderson's "Sleigh Ride."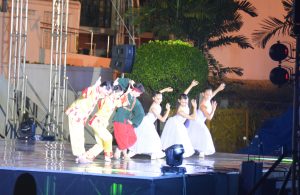 The UP Dance Company, the official UP Diliman (UPD) contemporary dance group based at CMu, wowed the audience with excerpts from "The Nutcracker Suite, Op. 71a" by Pyotr Ilyich Tchaikovsky (1840-1893), namely, "Marche," "Danse chinoise," "Danse des Mirlitons" and "Danse russe Trépak."
The UPSO and the UP Grand Chorus capped the night with heartfelt renditions of "The Bells of Christmas" Bob Krogstad arranged; San Pedro's "Simbang Gabi"; medley of "Namamasko," "Mano Po, Ninong" and "Pasko! Pasko" Cayabyab arranged; and Anderson's "A Christmas Festival." The UP Grand Chorus is composed of members of UP Concert Chorus, UP Los Baños Choral Ensemble and UP Manila Chorale.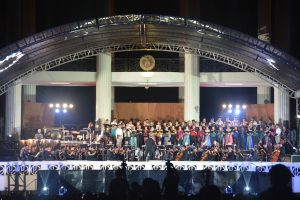 The orchestra. With its establishment approved by the Board of Regents at its 1337th meeting on Aug. 30, the UP Symphony Orchestra will serve as the official system-wide UP orchestra, supported by the UP System Fund and hosted by CMu. It will serve as a training ground for composers and musicians alike, and as a representative of the University and the Philippines on the worldwide stage.
Watching alongside UP President Danilo L. Concepcion and UPD Chancellor Michael L. Tan was National Artist for Music Ramon P. Santos.
The concert is jointly presented by the UP Office of the President, UPD Office of the Chancellor, UPD Office of the Vice Chancellor for Community Affairs and UP CMu.