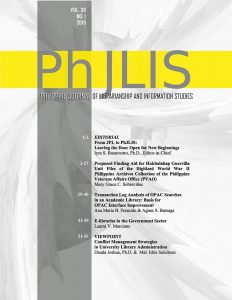 (MAY 1)—It is a time of transformation for the UP School of Library and Information Studies (SLIS), from the move to a new home, to having a new dean in Prof. Mary Grace Golfo-Barcelona and now their "Journal of Philippine Librarianship" (JPL) has been renamed to the "Philippine Journal of Librarianship and Information Studies" (PhJLIS).
In her editorial, PhJLIS editor-in-chief Prof. Iyra S. Buenrostro stated the journal's 39th volume "opens a new chapter for the country's longest-running refereed LIS journal."
Along with a new name, the journal that has been in publication since 1968 now has a wider scope of topics and a plan for internalization.
"[W]e are opening our door for submissions from different parts of the globe with a wide array of conceptual and practical topics on librarianship and information," she said.
The PhJLIS now has an international advisory board and is now accepting entries from different parts of the globe.
Buenrostro said the name change "is one of the many steps that the SLIS is undertaking to strengthen its place as the premier library and information school in the region.  More importantly, this move signifies the School's unremitting pursuit for excellence in servicing the LIS profession and community."
The PhJLIS issue features digitizing archives, improving the online public access catalog (OPAC) and the use of e-libraries in government.  A final section named Viewpoint tackles the conflict management in university library administration.
The first article is "Proposed finding aid for HUKBALAHAP guerrilla unit files of the digitized World War II Philippine Archives collection of the PhilippineVeterans Affairs Office (PVAO)" by Mary Grace C. Sobreveñas of the Quezon City Public Library.  This focuses on creating a finding aid ¾ a document that describes and details the content and arrangement of a collection of materials.
The finding aid will be used for the records of Hukbalahap (Hukbong Bayan Laban sa Hapon) activities from 1941 to 1948 that are housed in the US National Archives and Records Administration.
"This record group is important and can be used to supplement the gaps in the WWII history, and the war activities and bravery of Filipino soldiers and civilians during this period," Sobreveñas said.
The second article is "Transaction log analysis of OPAC searches in an academic library: basis for OPAC interface improvement" by Ana Marie Fresnido and Agnes S. Barsaga of the De La Salle University Libraries.
The researchers analyzed the search history of their institution's OPAC system and found that "users are experiencing difficulties with the current OPAC interface mainly because they are accustomed to using Web search engines" and expect it to draw out results even for queries inaccurate or erroneous.
The researchers recommended that the school subscribe to a discovery service, which uses web technology to beef up an OPAC system and deliver better search results.
The third article, "E-libraries in the government sector" by Laarni V. Marciano of the Department of Environment and Natural Resources focuses on the need for Philippine government agency websites to have electronic-library (e-library) infrastructure.
A website with an e-library infrastructure, like the Official Gazette of the Republic of the Philippines, lets users access electronic copies of literature such as department memoranda or administrative orders. Marciano discovered that out of the 205 government websites, only 24 or 11.7 percent have e-libraries.
"Strengthening librarians' capacities to develop and/or design e-libraries with appropriate structure, services, content and format could help in maximizing the use of internet in providing access to information," she said.
Finally, "Conflict management strategies in university library administration" is by Dr. Dauda Joshua, HOD/Lecturer, Readers' Services Division, and Mal. Idris Suleiman, Technical Services Division/Lecturer of the Ibrahim Babangida Library and Department of Library and Information Science in Nigeria.
The study focused on the types of conflict in libraries and library management, and found that library leadership allocate over 20 percent of their time trying to resolve conflict in library management daily.
The authors outlined management strategies that could be used in resolving conflicts in a library setting.
The 39th volume of the PhJLIS can be accessed at http://phjlis.org