(OCT. 11)  ̶ Soka University officials turned-over to the UP System (UPS) and UP Diliman (UPD) officials replicas of eight framed photographs taken by Dr. Daisaku Ikeda.
A Japanese peace advocate and Soka University founder, Ikeda was the donor of Balay Kalinaw where the actual photographs, ranging from 18 by 24 inches to 42 by 60 inches, are on display.
The pictures depicting nature were taken from the Philippines, Japan, Nepal and United Kingdom.
The 3-story Balay Kalinaw in Pook Dagohoy was inaugurated on May 11, 1993.  Soka University Board of Trustees Chair Yasunori Tashiro said it "is a symbol of our friendship of almost 30 years with UP."
He added that they are convinced Ikeda's picture "will warmly watch over the people who would visit this place in search of peace."
The building was a major project of then UP President Jose V. Abueva. Ikeda first met Abueva in 1990 and officially visited UP in 1991 to attend UPD's general commencement exercises.
Balay Kalinaw or "House of Peace" houses a conference hall, two dining rooms and four seminar rooms. Part of the complex is the Balay Internasyonal which has 16 student apartments and eight 2-bedroom apartments.
UPD Chancellor Michael L. Tan said Balay Kalinaw "has been home to so many of our international visitors. Long before people were talking about international mobility and internationalization, Balay Kalinaw set the way for UPD."
Prof. Gilda Uy, Program Development Associate of the UPD Office of International Linkages, described the pictures as "a new set of memories that will further bond us, Soka University and UPD."
Seeds of Hope. Following the turn-over ceremony was the exhibit "Seeds of Hope: Visions of Sustainability, Steps Toward Change," a joint initiative of the Soka Gakkai International (SGI) and Earth Charter International.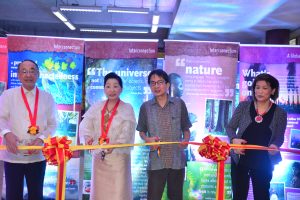 UP President Danilo L. Concepcion in his message read by UP Vice President for Public Affairs Elena E. Pernia said, "UP welcomes its [exhibit] vision of our interconnectedness as human beings in the greater community of life. We welcome its message that we need to widen our circle of compassion and love to encompass more than just our tribes, but the entirety of nature as well."
SGI Philippines General Director Hisako Alcantara said the ribbon-cutting "is a symbol of opening our doors together in advancing peace through education. It is also aligned with Ikeda's proposal of education for sustainable development."
The exhibit contains 24 panels, including one left blank with a simple tree design so viewers can attach their own statement of what they will do toward sustainability. The exhibit started in 2002 and has since been shown in 34 countries in 13 languages.
SGI is a community-based Buddhist organization that promotes peace, culture and education centered on the dignity of life. Its organizational roots "dates back to 1930 when Tsunesaburo Makiguchi and Josei Toda founded the forerunner of the Soka Gakkai. It was officially formed in 1975 with Ikeda as its third president." Presently, it has more than 12 million members in 192 countries and territories around the world.
Ikeda founded Soka University in 1971 in Hachioji, Tokyo, Japan.
Earth Charter International is a "global movement of organizations and individuals that embrace the Earth Charter and use it to guide the transition towards a more just, sustainable and peaceful world."
Other officials present at the events were Hiroki Shimoide, Administrative Director of the International Affairs Office of Soka University; UP Assistant Vice President for Academic Affairs Gil S. Jacinto; UPD Vice Chancellor for Planning and Development Raquel B. Florendo; UPD College of Social Sciences and Philosophy Dean Maria Bernadette L. Abrera; and Prof. Mary Ann A. Espina, Balay Kalinaw architecture and former College of Architecture dean.  ̶ text by Benito V. Sanvictores Jr., images by Leonardo A. Reyes and Benito V. Sanvictores Jr.