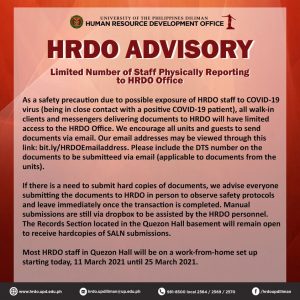 As a safety precaution due to possible exposure of HRDO staff to COVID-19 virus (being in close contact with a positive COVID-19 patient), all walk-in clients and messengers delivering documents to HRDO will have limited access to the HRDO Office. We encourage all units and guests to send documents via email. Our email addresses may be viewed through this link bit.ly/HRDOEmailaddress.
Please include the DTS number on the documents to be submitted via email (applicable to documents from the units).
If there is a need to submit hard copies of documents, we advise everyone submitting the documents to HRDO in person to observe safety protocols and leave immediately once the transaction is completed. Manual submissions are still via Dropbox to be assisted by the HRDO personnel. The Records Section located in the Quezon Hall basement will remain open to receive hard copies of SALN submissions.
Most HRDO staff in Quezon Hall will be on a work-from-home setup starting today, 11 March 2021 until 25 March 2021.