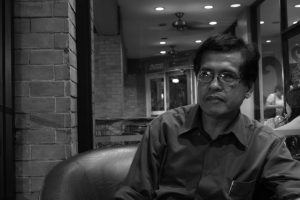 (MAY 9)—Prof. Cesar Hernando, retired Associate Professor V from the UP College of Fine Arts (UPCFA), passed away on May 8 at the Cardinal Santos Medical Center in San Juan, according to his family's post on Facebook. He was 72.
Born on Nov. 11, 1946, he earned his Bachelor of Fine Arts degree from the University of Sto. Tomas in 1967.
He served as faculty on Jun. 1, 1986. After his retirement in 2011, he continued teaching at the UPCFA as a professorial lecturer under the Department of Visual Communication.  
Hernando is also a highly respected production designer, cinematographer and director in Philippine Cinema.
As film production designer, Hernando was known for his collaborations with directors Mike de Leon, Lav Diaz and Raymond Red. Among the films he worked on were Red's "Kamera Obskura" (2012), Diaz's Batang West Side (2001), Maryo J. Delos Reyes's "Tagos ng Dugo" (1987) and De Leon's "Sister Stella L." (1984) and "Kisapmata" (1981).
He was cinematographer of the films "Clandestinos" (2007) directed by Antonio Hens and "Correspondencia Víctor Erice-Abbas Kiarostami" (2006) by Víctor Erice. Some of the films he directed were "Gayuma" (2015), "Kagat ng Dilim" (2006) and "Botika Bituka" (1987).
According to the Facebook post of Hernando's nephew, Raymundo, "Mass for Tito Cesar Hernando will be held today, 4 pm, at Funeraria Paz (Araneta Ave). After the mass, his remains will be cremated, 5 pm, and will be available for viewing around 7 pm at Paz (Annex Bldg – 3rd floor – Chapel 11) until Saturday morning. Inurment will be on Saturday." —Haidee C. Pineda
Photo credit: Alexis Tioseco (http://www.flickr.com/photos/atioseco/401539153/)