(SEPT. 4)—Experts from the College of Engineering (COE) Electrical and Electronics Engineering Institute (EEEI) are looking at e-tricycles and bike sharing as clean, green transportation solutions for small communities.
This was EEEI's goal with the launch of InElecT (Intelligent Electric Transportation Network) and the UP Smart Bike Sharing System, two projects the Department of Science and Technology (DOST) funded last Aug. 30 at the EEEI.
"Grab"bing e-trikes. IntElecT uses a community-based ride sharing system similar to Grab or Uber to coordinate, keep track of, and charge electric vehicles to ferry users inside a relatively small area.
Using an app they will develop named "Hatid," UP Diliman (UPD) employees should be able to book rides to locations on campus through the services of 10 electric tricycles (e-trikes) the Department of Energy donated.
The e-trikes and their drivers are equipped with devices that allow the team to track both the location and the battery level of each vehicle.
To demonstrate the new system's power, three of the key officials gracing the event booked their e-trikes from separate locations: DOST Secretary Fortunato dela Peña from the Marine Science Institute, COE Dean Rizalinda de Leon from the National Engineering Center and UPD Chancellor Michael L. Tan from Quezon Hall.
Project leader Lew Andrew Tria said e-trikes will be available to the various UPD administrative offices for their messengerial needs. Among three locations that will first avail of the service are Melchor Hall, the Institute of Civil Engineering building and Lagmay Hall.
Now in its second year, the project will also fund the construction of several super-charging stations supplied by the people behind CharM (Rapid Electric Vehicle Charging-Charging in Minutes) project.
The first is now being built at the EEEI compound along Velasquez Street. Aside from regular power lines, the charging stations will also be using renewable energy sources such as solar energy.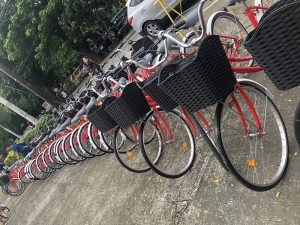 Bike sharing. The second project launched was the UP Smart Bike Sharing System, a locally made bike sharing system developed in partnership with UP Bike Share, a student organization that began UPD's only bike sharing system.
The UP Smart Bike Sharing System features a smart lock that can be tracked and controlled remotely so the bike can be locked and unlocked on demand. It has a geofencing system where the bikes cannot be taken out of a certain set area.
Project leader Nestor Michael Tiglao said with the help of DOST, the team was able to purchase 100 new bikes from Chin. The team was also able to fully develop a bike sharing system with the help of UP Bike Share and its network of about 100 student members.
Tiglao said that while bike sharing is not a new concept, having a homegrown one has several benefits.
"We have full control over hardware and software and we can customize this based on their [client] needs. The problem with getting it from outside the country is hindi mo pwedeng baguhin o i-customize. And if you have multiple bike sharing systems hindi mo sila pwedeng i-integrate because you don't have the IP (intellectual property) for that," he said.
In Miriam Ricci's "Bike-sharing: a review of evidence on impacts and processes of implementation and operation" published in "Research in Transportation Business & Management, (Vol. 15, special issue)" bike sharing "involves the provision of a pool of bicycles across a network of strategically positioned 'bike sharing stations,' typically distributed in an urban area, which can be accessed by different types of users (i.e., registered members or occasional/casual users) for short-term rentals allowing point-to-point journeys."
Tria said hoped that through the programs "we can provide a means for an efficient and clean mode of transportation for our country."
Both IntElecT and UP Smart Bike Sharing System are green technologies best suited for small communities like resorts and towns.—Text and photos by Anna Regidor