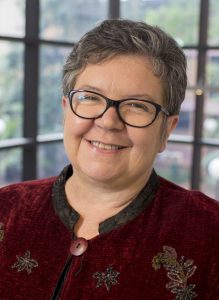 (FEB. 14) – Gender and sexuality are operationalized differently among societies, this in gist was what Prof. Vera Mackie, PhD, discussed at the public lecture "Gender and Sexuality Studies: Asia-Pacific Perspectives" at the Asian Center on Feb. 13. 
Mackie said differences between men and women can also be social and cultural, not only biological but also about ideas and practices.
"Gender is not natural but culturally constructed.  We learn how to be masculine or feminine, how to be men or women," she said.  
Mackie is a senior professor of Asian and International Studies in the School of Humanities and Social Inquiry at the University of Wollongong Australia.
According to Psychology Today (https://www.psychologytoday.com), gender is defined as the different characteristics that begin to define a person as masculine or feminine.  Researchers also believe that gender is influenced by a range of societal, environmental and genetic factors.  Sex, on the other hand, refers to certain genetic traits assigned at birth.  
Meanwhile, sexuality (https://opentextbc.ca/introductiontosociology2ndedition/chapter/chapter-12-gender-sex-and-sexuality/#section12.1.) refers to a person's capacity for sexual feelings and their emotional and sexual attraction to a particular sex (male or female).
The professor added that by looking at the global processes and other cultural understanding on gender and sexuality, a lot can be learned about the concepts and on how they are operationalized in very different ways in different societies.
"Every time we kind of look at our own society it is simply good to realize how local and specific our society is," she said. – Mariamme D. Jadloc
Photo credit: httpwww.historyworkshop.org.ukradical-objects-origami-and-the-anti-nuclear-movement