(SEPT. 27) ̶ Former UP School of Labor and Industrial Relations (SOLAIR) Dean Prof. Jose C. Gatchalian, PhD, passed away on Sept. 20, according to a Sept. 21 post of SOLAIR on its Facebook page.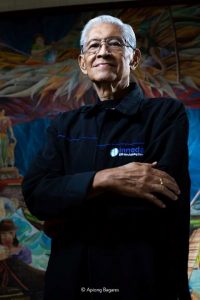 Gatchalian started his teaching career in SOLAIR in 1965 and became a dean in 1982 until 1988. He retired from SOLAIR in 2004. At the time of his passing, he was the Chairman of the Board of Quality Partners Company Ltd., a strategic consulting firm for labor relations and workplace cooperation.
Among his expertise were workplace cooperation, alternative dispute resolution, labor-management relations, human resource development, cross-cultural communications, informal economy and child labor.
He was President Emeritus of the Philippine Industrial Relations Society (PIRS) and a member of the Executive Committee of the International Industrial Relations Association (IIRA). He also served as a Fellow of the Strategic Studies Group, National Defense College of the Philippines; Adjunct Professor at the Asian Institute of Management; and Visiting Professor at the University of Malaysia in Sarawak.
For his valuable contributions to labor realtions, Gatchalian received several awards, among them the Professional Achievement Award from the UP College of Mass Communication (1980), Outstanding Administrator Award from UP (1986), Sikap-Gawa (Initiative and Work) Industrial Peace Award from the Bishops-Businessmen's Conference for Human Development (BBC; 1992), and Distinguished Alumni Award for Labor Management Cooperation for Industrial Peace and Harmony from the UP Alumni Association (2011).
He earned his PhD Communication, Master of Arts and Bachelor of Laws from UP and Masters and Diploma in Labor and Industrial Relations from the Institute of Social Studies, The Hague, The Netherlands.
He was born on Dec. 6, 1938. – Benito V. Sanvictores Jr., photos courtesy of UP SOLAIR FB Page (Apiong Bagares) and GBS Philippines website