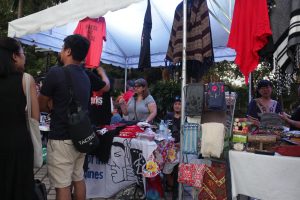 (MAR. 4)—Sunday evenings at the UP Carillon Plaza are usually quiet, with only the sound of the nocturnal wildlife and the rhythmic thump of joggers' feet pounding the pavement to be heard.
However on Feb. 22 the sounds of music from the First Quarter Storm (FQS) filled the space for the annual Himigsikan concert. FQS was a period of civil unrest during the first quarter of 1970 involving protest actions against the abuses during former president Ferdinand Marcos' administration.
The aura in the air was not unlike a music festival, with the pathway lined with booths selling trinkets, jewelry, clothing and other merchandise leading to a brightly lit stage set up in front of the Carillon Tower serving as the center piece of the festivities.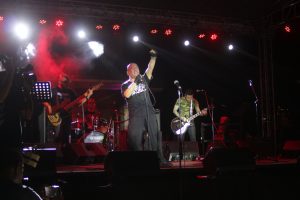 Datu's Tribe, the General Strike, the EXSENADORS, Tubaw Collective, PASADA, Village Idiots, Musikang Bayan, Salidummay, Tropang Usig, Bobby Balingit and Chickoy Pura took to the stage to sing their greatest hits.
The small crowd gathered at the start of the show grew larger as the night wore on, eventually spilling over into the sides of the stage, enthusiastically clapping, singing and cheering at every performance.
The event also served as the launching event of "Unang Sigwa: Mga Piling Kanta mula Dekada Sitenta," a collection of songs from the FQS recorded with new, contemporary arrangements.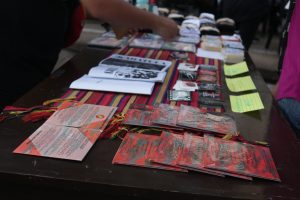 The 12-track album was produced by the FQS Movement, FQS@50 and the Surian ng Sining Institute in cooperation with the Tag-ani Performing Arts Society and Concerned Artists of the Philippines (CAP).
"Ang album po na ito ay isang buhay na halimbawa kung papaano ang mga aktibista at mga kabataan ngayon ay nai-inspire sa legacy na lumaban sa simula't sapul noong FQS.  Humahalaw po kami sa mga slogans, doon sa mga sinisigaw noong unang makibaka ang mga tao," said CAP Secretary General Lisa Ito-Tapang.
In between performances, Jesus "Koyang Jess" Santiago and Bonifacio Ilagan served as masters of ceremonies, introducing the artists and providing context for members of the audience unfamiliar with their body of work.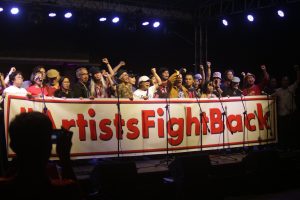 Himigsikan 2020 is part of the UP Diliman Arts and Culture Festival 2020: Makita kang Sakdal Laya, a 4-month series of events that celebrates the 50th anniversary of the FQS.—Anna Regidor, images by Isha Bonus