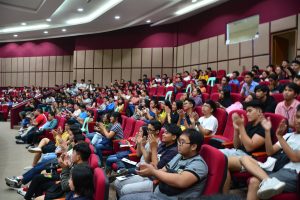 (JUL. 10)—Gearing up for college life at UP Diliman (UPD), more than 2,000 incoming freshmen (freshies) participated in the Freshmen Orientation Program (FOP) 2019 held at the School of Statistics (STAT) Auditorium from Jul. 2 to Jul 6. 
The FOP was organized by the Office of the Vice Chancellor for Student Affairs (OVCSA), in cooperation with the University Student Council (USC), to help prepare the freshies for their campus life and orient them on various student services of the University. 
This year, a total of 2,170 freshies from 18 degree granting units participated in the orientation.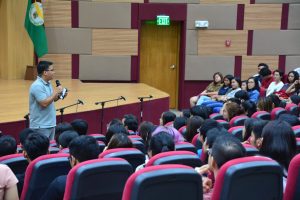 The 18 academic units were: College of Arts and Letters (CAL), College of Fine Arts (CFA), College of Human Kinetics (CHK), College of Mass Communication (CMC), College of Music (CMu), College of Education (CEd), College of Social Sciences and Philosophy (CSSP), College of Social Work and Community Development (CSWCD), Cesar E.A. Virata School of Business (VSB), Asian Institute of Tourism (AIT), School of Economics (SE), National College of Public Administration and Governance (NCPAG), College of Architecture (CA), College of Home Economics (CHE), College of Science (CS), School of Library and Information Studies (SLIS), School of Statistics (STAT) and various departments of the College of Engineering (COE).
Three academic units had the most number of participants: COE (622 freshies), CS (318) and CSSP (229).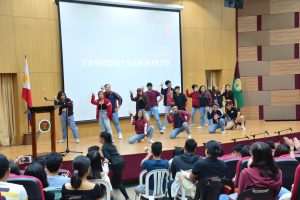 5-day FOP. Academic units were divided into groups for the 5-day FOP sessions. The colleges with a big contingent, COE and CSSP, were divided into three and two batches, respectively.
The OVCSA and USC-prepared 3-hour program was made more fun and exciting by the energetic hosting of Prof. Marvin Olaes of the Department of Speech Communication and Theatre Arts (DSCTA); Charmaine Aranton, DSCTA alumna; and USC Vice Chairperson Kenneth B. Eser Jose and USC college representative Christian Delos Santos of COE.  
Unlike the usual boring orientations, the program's concept this year had no dull moments. Some even likened it to a comedy bar because dynamic emcees were like multitalented stand-up comedians injecting humor in orienting freshies about life at UPD.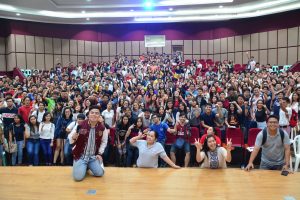 During the orientation, informational videos about the offices under the OVCSA were played. The offices are the Office of Scholarship and Student Services (OSSS), Office of Student Housing (OSH), Office of Student Activities (OSA), Office of Counseling and Guidance (OCG), Diliman Learning Center (DLRC), University Food Service (UFS) and Student Disciplinary Council. 
In addition to the OVCSA offices, the information about the General Education (GE) Program and the National Service Training Program were also included in the FOP line-up.
Representatives from these offices were also invited on stage to talk about their respective services and advice to the students.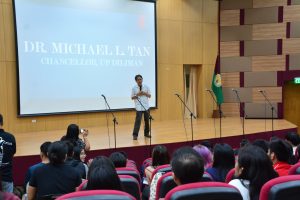 At the orientation, Chancellor Michael L. Tan gave an inspirational message while Vice Chancellor for Student Affairs Jerwin F. Agpaoa delivered the welcome remarks.
Among the performers in the FOP were the UP Concert Chorus, UP Streetdance Club and Engineering Choir. 
The FOP and Parents Orientation Program (POP) were held simultaneously. Attended by a total of 1, 188 parents and guardians, POP was conducted at the NISMED (National Institute for Science and Mathematics Education Development) Auditorium.  —Haidee C. Pineda, images by Leonardo A. Reyes