(FEB 6)—Public performances were simultaneously staged at 3 p.m. on Feb. 1 in four different locations at the University of the Philippines Diliman (UPD) to open this year's 3-month Festival of Culture and of the Arts.
Taludturan: Poetry of the Body is a series of performances inquiring into encounters of the body vis-à-vis several concepts of beauty, love and desire, revolt and death. The performances are in tune with the Festival's theme of Kat(h)awan: Bodies, Culture and Society, which seeks to answer the question "What do we mean when we talk about bodies in Philippine culture and society?"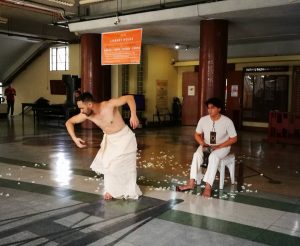 At the Melchor Hall lobby, "Encounter: Glimpses of Beauty" featured dance artist PJ Rebullida and Jose Buencamino on percussions. They interpreted the Filipino translation of Octavio Paz's "Haplos" and Cirilio Bautista's "Tula ng Katawan," engaging and confronting the audience in their exploration of how bodies change and are changed by others through what they see and touch.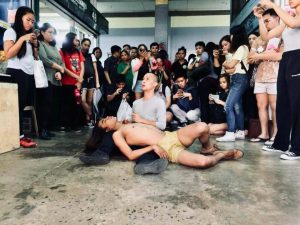 "Part 2, Exchange: Poems that Love/Make Love," was performed at the UP Shopping Center. The show featured Bunny Cadag and Buboy Raquitico, with Jacques Dufourt on percussions, who performed a piece inspired by Ronald Baytan's "He who sleeps in my lap" in a poetic choreographic performance of the politics and the shifting power relations of two bodies in the process of falling in, being in, and making love.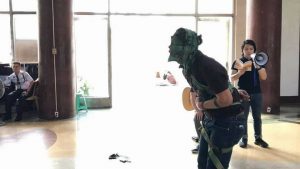 Meanwhile, students at the Palma Hall lobby witnessed a rousing performance from artist Boyet De Mesa, musician RJ Balledos and theatre students Roger Federico and Nico Varona. In Conflict: Body in Revolt, De Mesa and his collaborators created an embodied image of pain, suffering and collective anger as they interpreted Pete Lacaba's "In Memoriam" as homage to victims of Martial Law during the Marcos administration and of the recent extra-judicial killings. The performance included the element of Day-eng— a funeral chant from the Kankana-eys of Benguet, according to Federico, co-dramaturg and performer.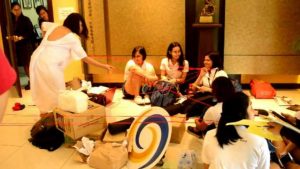 Lastly, performance artist Nerisa Del Carmen Guevara illustrated, for the probing audience at the College of Mass Communication Lobby, the (in)visible connections of living and/or dead people through seemingly endless red strings she made use of in her performance of Infinite Gestures: Red Strings of Fate (Connections). The work is part of her Elegy Series she considers as "bridges and gestures for the beloved on the Other World."
Taludturan: Poetry of the Body will again be staged on Feb. 8 and 15 in different locations of the same four venues. On Feb. 21 and 22, the final performances will be at the Asian Center at 1:30 p.m.