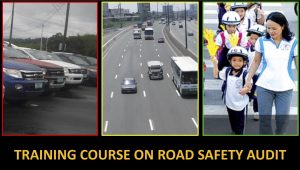 Date: October 22-26, 2018
Venue: Toyota Training Room, UP NCTS Building, Apacible St, UP Diliman Quezon City
Time: 8 a.m.–5 p.m.
Open to the public and first-come, first-served basis (with registration fee)
Road network expansion, increased motorization and urbanization in the country have been accompanied by a surge in road crashes leading to road injuries and fatalities. Today, road traffic injuries top the list of leading causes of deaths. Road Safety Audit is a formal process where an independent and qualified audit team examines and reports on the road crash potential and safety performance of a future road project or a traffic management scheme on an existing road. RSA has the greatest potential for improving safety and is most cost effective when it is applied to a road or traffic design before the project is built. The UP National Center for Transportation Studies (UP NCTS) will offer a Road Safety Audit Training Course this October to give an overview on principles and fundamentals of road safety, statistics/trends, causes and factors of crashes, road safety audit concepts, accident analysis and various road safety facilities. Basics of geometric design of highway sections and their applications together with intersection design elements are also presented.
The event is open to the public on a first-come, first-served basis (with registration fee).
For inquiries, please feel free to contact us at telephone nos. 929-0495 or 981-8500 local 3552 (look for Engr Sheila Flor D. Javier / Mr. Jerome N. Ballarta)