Former UP Diliman (UPD) College of Mass Communication (CMC) Dean Luis V. Teodoro passed away on Mar. 13. He was an educator, veteran journalist, writer, press freedom advocate, editor, and official of various media organizations.
Media practitioners, university colleagues, and co-advocates for press freedom paid him tribute and posted their messages and memories of Teodoro on their respective websites and online pages.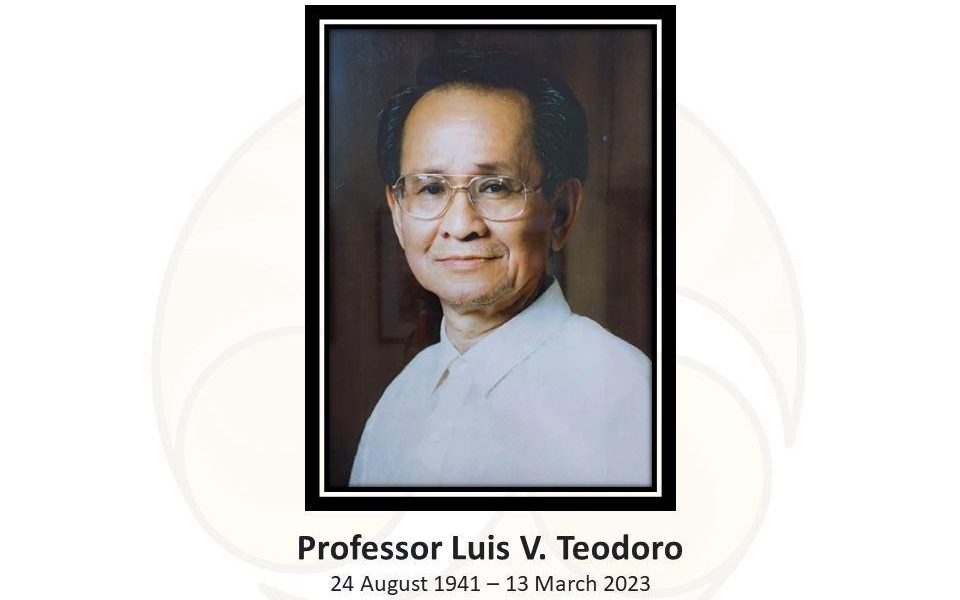 Educator and dean. Teodoro served as chair of the CMC Department of Journalism (DJourn) for three terms and as CMC dean for two (1994-1997 and 1997-2000).
He started teaching in the University in 1970 as a substitute instructor at the Department of English and Comparative Literature of the then College of Arts and Sciences, where he finished his bachelor's degree in English, major in journalism and creative writing in 1964.
He taught journalism, media law and ethics, political economy of mass media, and contemporary issues in communication.
CMC Dean Fernando dlC. Paragas said he believes Teodoro's unwavering passion for democracy was his greatest contribution to Philippine society.
"I think that is his biggest contribution kasi po ang tagal ni Prof. Teodoro na naglingkod sa ating bayan. At tuloy-tuloy po iyon. Wala po siyang [tigil] sa pagpapahalaga ng ating demokrasya. 'Yon pong gan'ong sustained effort ay napakahalaga. At ilang henerasyon ang kaniyang naturuan para ituloy ang laban na ito. I think people will remember him for the consistency, for the constancy of the strength of his convictions," Paragas said in an interview on Teleradyo, as reported by DZUP.
In a CMC Facebook post, Teodoro was honored thus: "As educator, editor, and journalist, Dean Teodoro was pivotal in fostering academic excellence in our discipline, upholding integrity in the practice of media, and defending our freedoms of the press, speech, and assembly."
It was during Teodoro's deanship that DJourn and the Department of Communication Research were named Centers of Excellence by the Commission on Higher Education. He conceptualized and raised the initial funds for the construction of the CMC Media Center, with its cornerstone laid during his deanship.
"The current and the future generations of journalists have been gifted by Dean Teodoro's lessons on journalism. We pledge to continue his legacy of wielding the pen in the service of the people," the National Union of Journalists of the Philippines said in a tribute on its Facebook page.
Journalist. Teodoro was editor-in-chief of the Philippine Collegian, the University's student paper, in 1961.
In the 1970s, Teodoro was editor of Philippine News and Features, an alternative news agency initiated by the Catholic Bishops' Conference of the Philippines.
Teodoro also wrote Vantage Point, a political commentary column for BusinessWorld.
As a journalist, editor, and journalism educator, Teodoro was conferred the Titus Brandsma Freedom of the Press Award in 2019 for his "incisive critiques of Philippine media [that] have inspired generations of media practitioners and scholars."
Writer. He wrote several books including The Undiscovered Country, a collection of award-winning works which UP Press published in 2006, In Media Res: Essays on the Philippine Press and Media (UP Press, 2013), and Divide by Two (UP Press, 2016).
In 2015, his book Vantage Point: The Sixth Estate and Other Discoveries published by the UP Press received the Best Book for Journalism at the 34th National Book Awards.
Advocate. Teodoro was a trustee of the Center for Media Freedom and Responsibility (CMFR), a private, non-stock, non-profit organization involving different sectors of society in the task of building up the press and news media as a pillar of democratic society, and was an editor of its Philippine Journalism Review Reports.
On its Facebook page, CMFR said: "A pillar of Philippine journalism, Teodoro's combined careers as an academic and journalist are unparalleled. His place as an esteemed colleague and friend is unique. CMFR will forever uphold his contribution to the work of building a free and independent press and its role in Philippine democracy."
He was also the founding chair of Altermidya, a network of independent media groups and practitioners. A report from the alternative online news publication Bulatlat, quotes Teodoro as saying, "The group's formation would boost the role of alternative media in filling in gaps and telling stories that mainstream media sometimes avoids, given corporate interests."