Labang Isko: Higit sa Hindi Pagsuko
Ni Giland Marie A. Lim, BA Broadcast Communication, summa cum laude 2022
Mensahe ng Kinatawan ng UP Diliman Class of 2022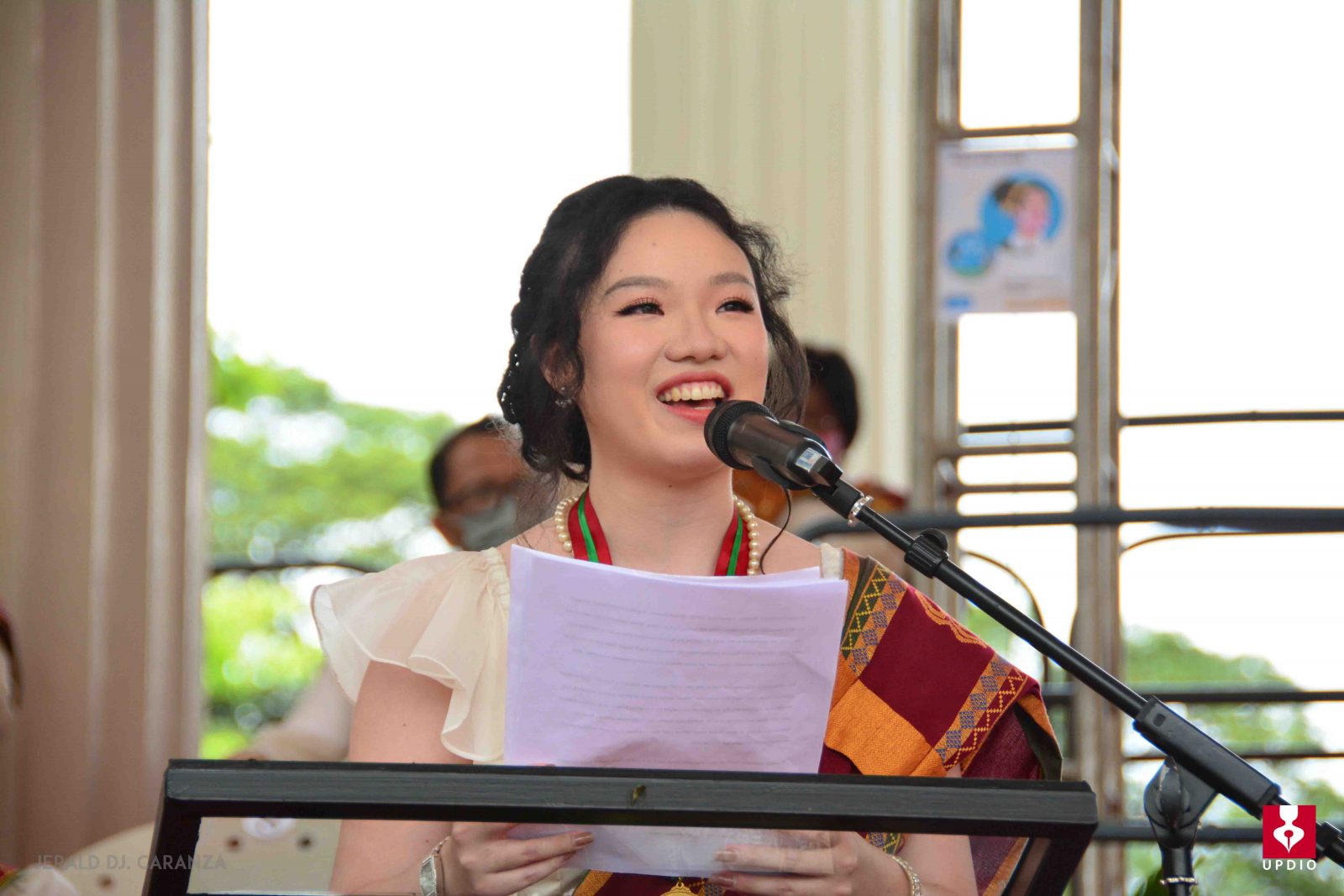 Guest of Honor and commencement speaker Dr. Caroline S. Hau―whom we thank for her inspiring message, Chairperson of the Board of Regents, Dr. J. Prospero E. De Vera III, members of the Board of Regents, Honorable President Danilo L. Concepcion, UP Diliman Chancellor, Dr. Fidel R. Nemenzo, vice chancellors, directors, deans, other university officials, faculty members, proud parents and guests, our live online audience, and my celebrated fellow graduates, most of whom have weathered through as the first batch of K-12 students, good day.
Laban lang!―a common phrase we Filipinos use to stay motivated and hopeful during challenging times. "Laban lang," sabi ng ating kapwa Pilipino. "Laban lang," sabi natin sa ating mga sarili. Laban. lang.
As college students, we have surely been on both the giving and receiving end of these words at countless points of our UP journey. At noong dumating ang pandemya, mas lalo nating kinailangang lumaban lang sa araw-araw. This has been a period plagued by uncertainties and unprecedented challenges. We have been faced with threats to our mental health, our family income, our future, and even our very lives, to name a few.
Sa ganitong kalagayan, napaisip ako: Paano nga ba gumagana itong "Laban lang?" May hiwaga ba ang mga salitang ito at bigla nalang tayong mapupuno ng lakas at mabibigyan ng mga armas upang mapagtagumpayan ang hinaharap na pagsubok?
When we look at our own student experience, the harsh truth is that in the face of greater forces, "Laban lang!" won't get you your units in CRS; it won't stabilize the internet connection you need to attend your synchronous class; "Laban lang!" won't make you graduate.
For "Laban lang!" to take effect, our intentions must be accompanied by concrete action; and these actions must be directed towards targeting the root causes of the inequities we face.
During my stay in UP, I learned from my fellow students just as much as I learned inside the classroom. I found myself in awe of how they turned the powerlessness they felt into a burning desire for change; how they turned "Laban lang!" into "Laban!"—to not just carry on as we were, but to take up courage and actively fight on against the forces that try to render us voiceless.
At present, we find ourselves in the midst of the biggest battle against disinformation and historical distortion that our country has ever faced. Ironically, this age of greater connectivity and access to information has allowed for less—or worse, false—information to come our way. It has created a demand for alternate narratives which distort our perception of current—and even past events in our country. In some ways, an environment wherein false information abounds is similar to one wherein no credible information is available. At. All.
The danger of this is that when we are robbed of truth, we are also robbed of the ability to make informed decisions; and an informed citizenry is essential to democracy. In instances such as these, we can and must not endure this newfound era of exploitative mal-information that poses a threat to our freedom.
Though when even the words and works of our established historical experts are being reduced to mere gossip, when the country's largest media outlets are being hunted down, when credible news sources are being shunned in favor of fake news, and when the truth is being equated to terrorism, we, as common individuals, must find the courage to speak. Ngunit, sa ganitong pagkakataon, mahirap hikayatin ang ibang tao—o ang ating sarili man lang—na lumaban.
Mahirap man, tila imposible, ngunit magagawa natin ito nang sama-sama, because the act of both carrying on and fighting on is impossible to do alone.
During my sophomore year, my English 13 professor asked us to write about the importance of collective action. Not having the answers myself, I turned to a trusted upperclassman in search of one. Although he is no longer with us, his words left a lasting impression on me: that we must engage in collective action not for—but with others.
For the second time, I had an epiphany; the "Laban lang!" that turned into "Laban!" has now become "Laban tayo!"
Joining Frontliners' Kitchen, a youth-led COVID-19 and disaster response organization, showed me that the ability na lumaban does not spring from nothing. When Typhoon Ulysses struck last 2020, we scrambled in the dead of night to try to find transportation to bring the lifeboats and vests we had to the flooded communities. We had plans much bigger than our resources as students, but we had each other, and we were adamant in working towards a common goal.
My pandemic experiences, as well as my stay in UP, taught me that every fight isn't just mine, or yours, or theirs—it's ours. Our collective laban in the pursuit of loftier goals is universal. Our struggles as students are the struggles of our people for a brighter future. With various Filipino sectors—from our underpaid labor force to our overlooked indigenous siblings, from our threatened media workers to our marginalized LGBT QIA + siblings; their multidimensional, intersectional struggles are ours as well.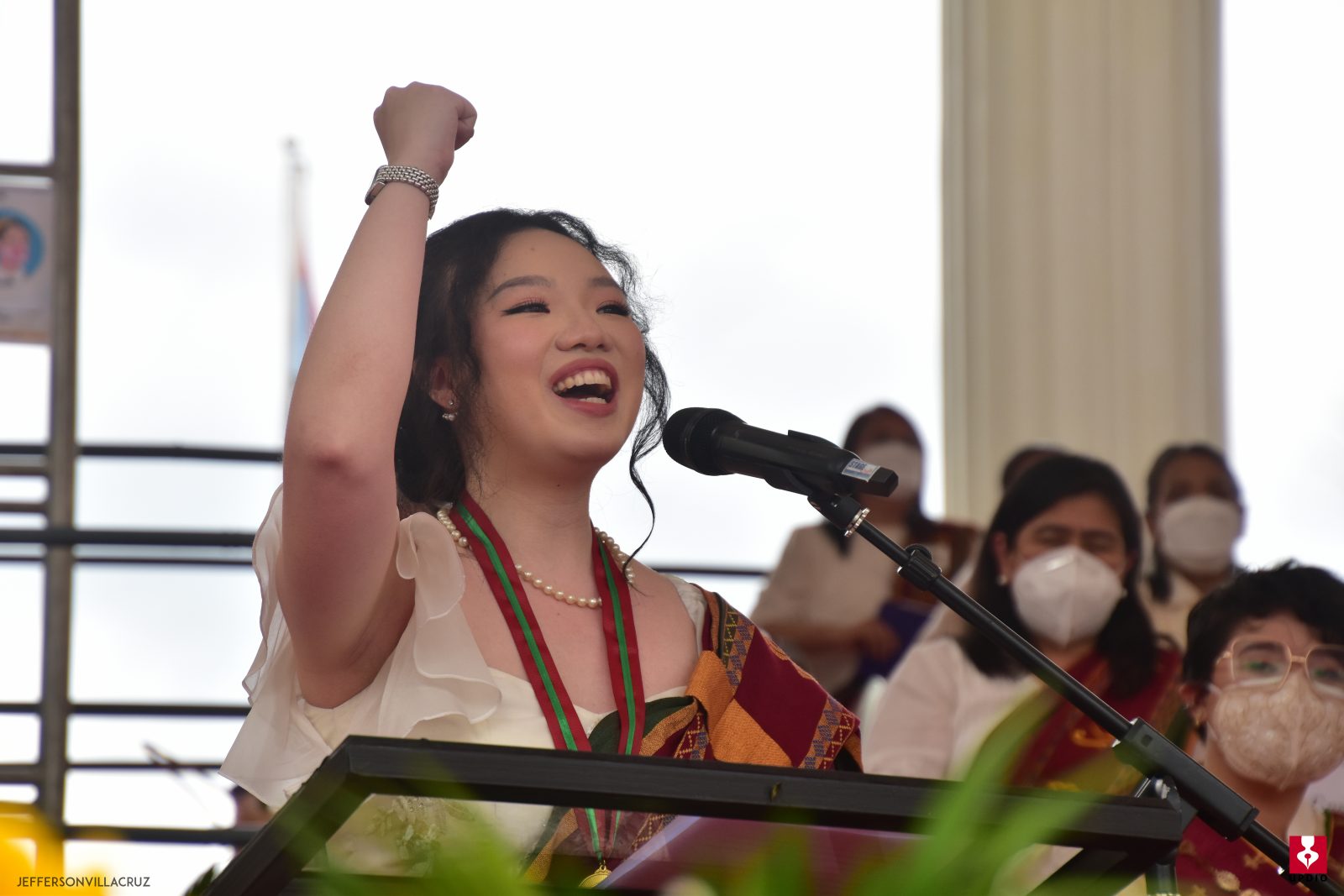 Nandito tayo ngayong mga nagsipagtapos, hindi dahil sa lumaban lang, ngunit dahil lumaban tayo nang sama-sama.
Sa pagsasabuhay ng diwa ng Dasig, tayo ay hindi mga iskolar lamang, ngunit mga Iskolar ng Bayan, para sa bayan, kasama ang bayan.
Padayon, UP Diliman Class of 2022! Lalaban tayo!