(FEB. 28) — Nine days before his term ends as UP Diliman (UPD) Chancellor, Prof. Michael L. Tan, DVM, PhD reported his administration's accomplishments to UPD at "Paglinang at Pagbunga," the opening program of the Linggo ng Parangal 2020, Feb. 21 at the UP Theater.
Tan's report was not the conventional one, but of an "account of travel or a trip," a journey that took six years of joy and challenges.
Switching back and forth from English to Filipino, Tan spoke comfortably and casually with the audience because he does not want to present "with boring statistics."
"Ang hinanda ko ngayon ay isang account of travel or trip. Isang paglalakbay ng mga kasama, mga kaibigan, mga kapanalig. It was a really long trip that I took with you for six years. It's not much of an end-of-term report but of a recollection of a long journey," he said.
The Chancellor said the report is a story that involves processes that relate to the Linggo ng Parangal theme "Paglinang at Pagbunga."
His report was composed of four parts: "Pag-uugat at Paglulugar at Pagpapahalaga sa Kapwa" (Pride of Place; Pride in People), "Pagpunla at Pagbunga" (Boldness of Vision), "Pakikipagkapwa at Pakikipag-ugnayan" (Building Bridges) and "Husay, Dangal, Malasakit at Adhikain para sa UP Diliman" (Nurturing Compassion and Dreaming of the Future).
"It's a story of how we get things done, how we cared for the good works that were started by many others before us. How we sowed new seeds for the initiatives and with them, even saw the fruits of some of the labor. Maybe the (other) fruits may take some years to come," Tan said.
Tan said his six years as UPD Chancellor were challenging, and at times "with many turbulences," that before attending University Council meetings he would say to himself, "Fasten your seatbelt."
During his chancellorship, UPD had an academic calendar shift, two UP presidencies, fire incidents, disasters, new laws and "not so nice regents," Tan said.
In his report, Tan only gave one statistic intended for individuals who wanted the chancellorship because of ambitions for power and prestige.
He said the chancellor's work can be full of drudgery, "I would like to remind that one of the works in the academe is that of papers and there are many papers to sign day in and day out."
Even so, Tan said there is still joy in that drudgery.
"I would glance at the paper of the staff and feel their excitement. I would write to the people I knew. I would read the contract, sometimes spurred to write the principal initiators to tell me more about their projects," he said.
Tan wrapped his report with a presentation of previous and present Office of the Chancellor Executive Staff and previous and present UPD officials.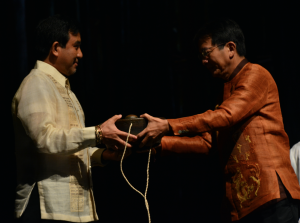 During the Seremonya ng Paghahabilin, Tan handed Prof. Fidel R. Nemenzo, DsC, the current Vice Chancellor for Research and Development a gangsa, a single handheld smooth-surfaced gong. The gesture was a ceremonial turnover of the chancellorship from Tan to Nemenzo, the 11th UPD Chancellor.
The formal turnover of the chancellorship will be held on Monday, Mar. 2.—Mariamme D. Jadloc, images by Leonardo A. Reyes