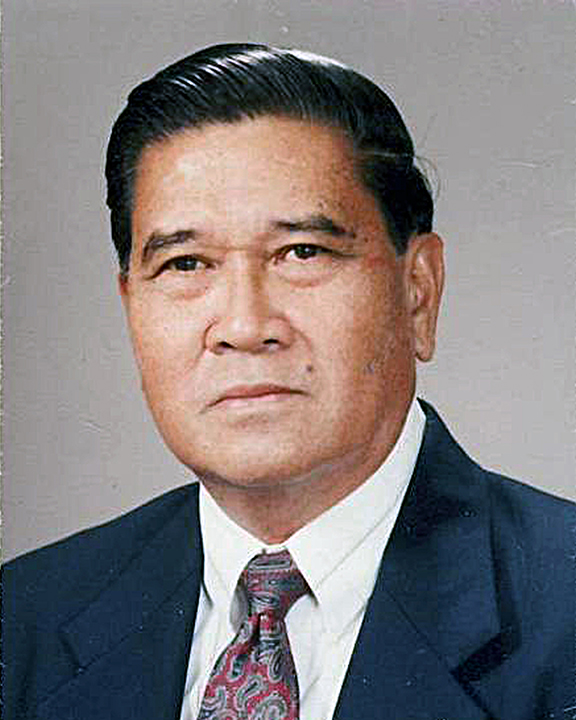 Ernesto G. Tabujara Sr., PhD
1983-1990
Professor, College of Engineering
Tabujara was appointed Acting Chancellor by then UP President Edgardo J. Angara in 1983. He became full-time UPD Chancellor in 1985 and served in that capacity until 1990. As chancellor, he led the reorganization of the former College of Arts and Sciences into the present tri-College, namely, College of Arts and Letters, College of Science and College of Social Sciences and Philosophy. It was also through his initiative that the programs of UP Clark and San Fernando, UP Baguio, UP Visayas and UP Mindanao were established.
He graduated with a bachelor's degree in Civil Engineering from UPD in 1952. He earned a Master's Degree in Civil Engineering (1955) and a PhD in Structural Engineering (1971), both from the University of Illinois, Urbana-Champaign. He received two top awards each from Philippine Association of Civil Engineers (1973, 1974) and Philippine Institute of Civil Engineers (1974, 1975). He was named Most Outstanding Civil Engineer by the Professional Regulation Commission in 1984 and received the UP Alumni Association (UPAA) Outstanding Professional Award in Engineering in 1985. He also received the UP Alumni Engineers Lifetime Achievement Award in 1990, the National Research Council of the Philippines Achievement Award in Engineering and Industrial Research in 2006, and the UPAA Distinguished Alumnus for Lifetime Achievement in 2012.
Tabujara started as an instructor in civil engineering in 1953, becoming assistant professor in 1956, associate professor in 1971, and full professor in 1974. In 1982, he was appointed chairman of the Department of Civil Engineering (now Institute of Civil Engineering). Tabujara also served as Acting Vice-Chancellor for Community Affairs and concurrent-in-charge of the Campus Planning, Development and Maintenance Office.
He passed away on June 20, 2014 at the age of 85.