(OCT. 4) — "If life is beautiful, it should be a rainbow," said keynote speaker Dr. Leticia Peñano-Ho, former UP College of Education dean and Professional Regulation Commission 2019 Outstanding Psychologist, to more than a hundred participants who attended the "Celebrate Life 2019" forum on Sept. 30 at the School of Economics Auditorium.
Celebrate Life is a yearly event organized by the Office of the Vice Chancellor for Student Affairs (OVCSA) through the Office of Counseling and Guidance (OCG). The theme for this year's event was "Embracing the Fullness of Life: Mental Health Perspectives Across Profession."
In her keynote address, Peñano-Ho compared the fullness of life to a rainbow.
She said, "How many people would say 'life is a rainbow? Since when did the rainbow become so dark? Since when did the rainbow become colorless? That's how I see life."
She added, "The fullness of life is what you want to have whether positive or negative, can eventually lead to embracing it or fighting it. That's how we are as we face life."
Peñano-Ho also said in life there is change, diversity, chaos, reality, uncertainty and weaknesses.
She explained that strength is not on the list because there are weaknesses that turn out to be a person's biggest strength. "When you talk about weaknesses, you talk about things that you'd rather have improved, etc. Facing your weaknesses is a way by which you can improve yourself and you see a different you," she said.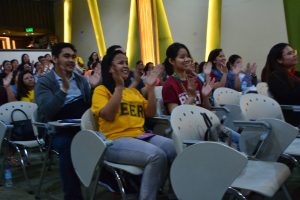 Multimodal therapy. Peñano-Ho also discussed the multimodal therapy (MMT) that psychologists and guidance counselors can use as an approach to help people with mental illnesses.
MMT was defined in the "Multimodal Therapy: A Primer" by Prof. Arnold A. Lazarus, PhD, ABPP, a Distinguished Professor Emeritus of Psychology at the Rutgers University, Piscataway, New Jersey, as an approach in behavior therapy that "strives to combine a broad and interactive set of systematic strategies, and offers particular assessment tactics that enhance diagnosis, promote a focused range of effective interventions, and improve treatment outcomes."
Through the MMT, Peñano-Ho said the modalities or approaches that can be used by psychologists and guidance counselors for their clients are health, emotion, learning, people, imagery, need to know, guidance of behavior, and spirituality.
During her time at the Philippine Guidance and Counseling Association (PGCA), she said "We tried to tweak it for guidance at that time. But, I don't know if this was used faithfully and diligently because I like it. I like it because we added a new element to it which is very fitting for Filipinos and it is spirituality."
According to Peñano-Ho, health "emphasizes the role of psychology in the promotion of healthy lifestyle."
For emotion, "people's behaviors are bound to contain undertones of how they feel towards each other, people, things or events—untangling immobilizing emotions."
Learning "attempts to help the patient cope with difficulties through competence building" while people "deal with the barriers to effective communication and social skills training."
Imagery pertains to "ways in which we picture ourselves and it includes memories and dreams" while need to know modality refers to "insights, philosophies, ideas and judgments that constitute one's fundamental values, attitudes and beliefs."
In guidance of behavior, "Modalities are only relevant in creating conditions that contribute to a meaningful life" while spirituality "focuses on the spiritual formation of the patient relevant to enhance a meaningful life."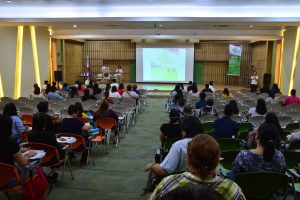 Program and activities. This year's Celebrate Life was attended by 148 participants who are mostly guidance counselors from various schools in Luzon.
Some of the school participants were Assumption College in Antipolo, Colegio de San Juan de Letran – Batangas campus, Cainta Catholic College, CIT Colleges of Paniqui Foundation, Inc. – Tarlac, Tarlac State University, Urdaneta City National High School, Cavite State University, St. Louise De Marillac College-Sorsogon, De La Salle College of St. Benilde, Claret School of Quezon City, Lyceum University, Mapua University, Philippine Science High School, San Sebastian College, University of Asia and the Pacific, and University of Santo Tomas,  among others.
During the program, Dr. Luzviminda S. Guzman, PRC Board of Guidance and Counseling chair, delivered an inspirational message.
She reminded the participants that "Life isn't about being right. It is about being kind. When you have the chance to be right or to be kind, choose kindness and choose love."
"It is helpful to remember that challenges are just tests. Hard times are tests and character builders. Never lose your spirit because it is one of the greatest challenges that the greatest struggle is found in what our character is made of…Everybody will shine after every storm," Guzman also said.
The keynote address was followed by a forum on mental health. Among the resource speakers were Dr. Dinah P. Nadera, FPPA, University Health Service resident psychiatrist; Dr. Sheila Marie G. Hocson, RGC, PGCA immediate past president; Dr. Josie B. Banaglorioso, RGC, RPsy, In-Touch Counseling Services; Fr. Teodulo Gonzales, S.J., PhD, RGC, CEFAM Ateneo de Manila consultant, and Dr. Carolina Uno-Rayco, RGC, Philippine Mental Health Association national executive director.
The topics discussed during the forum were "Mental Health Landscape of the Philippines: Impact to Education and Society" by Nadera; "Counseling and Mental Health: Towards Inclusiveness in Diverse School Setting" by Hocson; "Clinical Interventions and Management of Mental Health Issues" by Banaglorioso; "Family as the Core of an Individual's Well-being" by Gonzales, and "Advocating for Community Integration and Psychosocial Well-being of Individuals with Mental Health Issues/Concerns" by Uno-Rayco.
During the program, Lily Tanco and Ali Publico, shared their experiences on dealing with mental health. Tanco is the founder of CereCare Philippines Foundation while Publico is an MA Psychology student.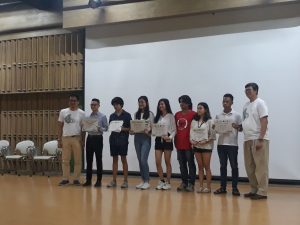 OCG also announced the winners of their poster-making, essay writing, poem making and theme song writing contests.
For the poster making contest, College of Fine Arts student Peter Jerome N. Fulgosino (Certificate in Fine Arts – Visual Communication) won first prize for "Breaking the Stigma" and Paolo R. Felices (Certificate in Fine Arts – Painting) won second prize for "Bloom into Liberty."
For the essay writing category, Lucia Ann M. Silva, College of Mass Communication (CMC) BA Journalism student, won first prize for her essay "Isang Madaling Araw sa Barangay ng Krus na Ligas." Maurice Joseph M. Almadrones, CMC BA Film student bagged second prize for "Malusog na Kaisipan: Susi sa Pagpapahinungod" while Mikaella M. Maniago, College of Arts and Letters BA Creative Writing student won 3rd prize for "Nakakalimot Ka…"
For the poem making category, Maria Franchette Beatrix F. Gacad, Sertipiko ng Malikhaing Pagsulat ng Filipino student from CAL, won first prize for her poem "Bagong Pagtingin." Associate in Arts Malikhaing Pagsulat sa Filipino students Jerwin B. Uy ("Igpaw") and Joseph F. Zabala (Muna't Muli) won the second and third prizes, respectively.
CMC BA Film students Claire Brent G. Enriquez's and Marianne Veronica D. Punzalan's "Now" bagged the grand prize in the song writing category and was declared the official theme song of "Celebrate Life." —Haidee C. Pineda, images by Leonardo A. Reyes