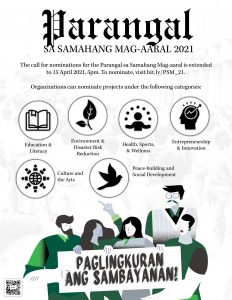 The call for nominations for the Parangal sa Samahang Mag-aaral IS EXTENDED to 15 April 2021, 5pm.
UPD recognizes the contribution of student organizations to the life of an academic community, to the production of knowledge and to the future of the country. A significant way to recognize the role and relevance of student organizations is given through the Parangal sa Samahang Mag-aaral.
The organization must be a registered organization during the time that the project was completed and at present. Awardees are entitled to a cash prize of PHP 20,000.
For the complete guidelines, visit bit.ly/PSM_21. For more details, visit http://ovcsa.upd.edu.ph/254-2/