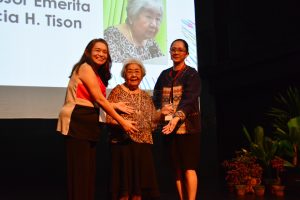 (APR. 26)—Celebrations for the 60th founding anniversary of the College of Arts and Letters Department of Speech Communication and Theatre Arts (DSCTA) concluded with the conference "Orality, Theatricality, Performativity" on Apr. 25 and 26 at the Wilfrido Ma. Guerrero Theater. 
Featuring research presentations from experts in speech communication and theatre arts, the conference was divided into five plenary panels, each with its own theme: mapping performance in Philippine arts and humanities; the future of performance research; theatre as method; oral cultures, traditions and heritage; festivals as the sites of the performative.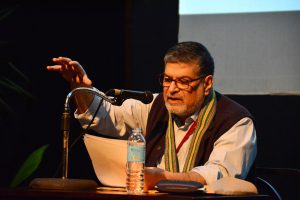 Keynote speakers were Professors Rustom H. Bharucha of Jawaharlal Nehru University in New Delhi, Indi and Vicente L. Rafael of the University of Washington, Seattle, and National Artist of the Philippines for Theatre Amelia Lapeña-Bonifacio. 
According to the convening team, the conference is "an endeavor to reflect how far the local contexts have engaged in meaningful conversations with the international academic communities" meant to "interrogate and problematize the future of speech communication and theatre in the Philippines."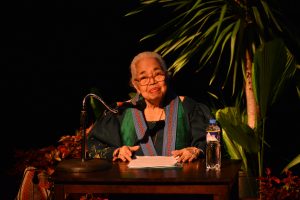 It was also held in honor of the DSCTA's Professors Emeriti Leticia Tison and Antonio Mabesa. Tison is part of the original pool of faculty members that formed the Department of Speech and Drama in 1959 and served as a program pioneer of the University's campus radio station DZUP. Mabesa founded Dulaang UP, the country's premiere academic theater organization, and spearheaded the develop of the theatre arts programs in UP. 
Co-convener Prof. Sir Anril P. Tiatco also hopes that the knowledge and discussion generated by the conference will aid in the development and institutionalization of a PhD in Performance program, the first doctorate-level program in the department.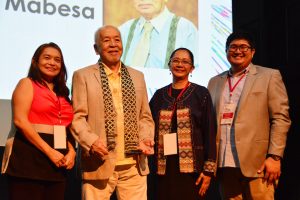 "It's an attempt to consolidate information about the idea of performance to help in the institutionalization of a PhD in Performance Studies program," he said.—Anna Regidor, images by Isha Bonus and Jefferson Villacruz