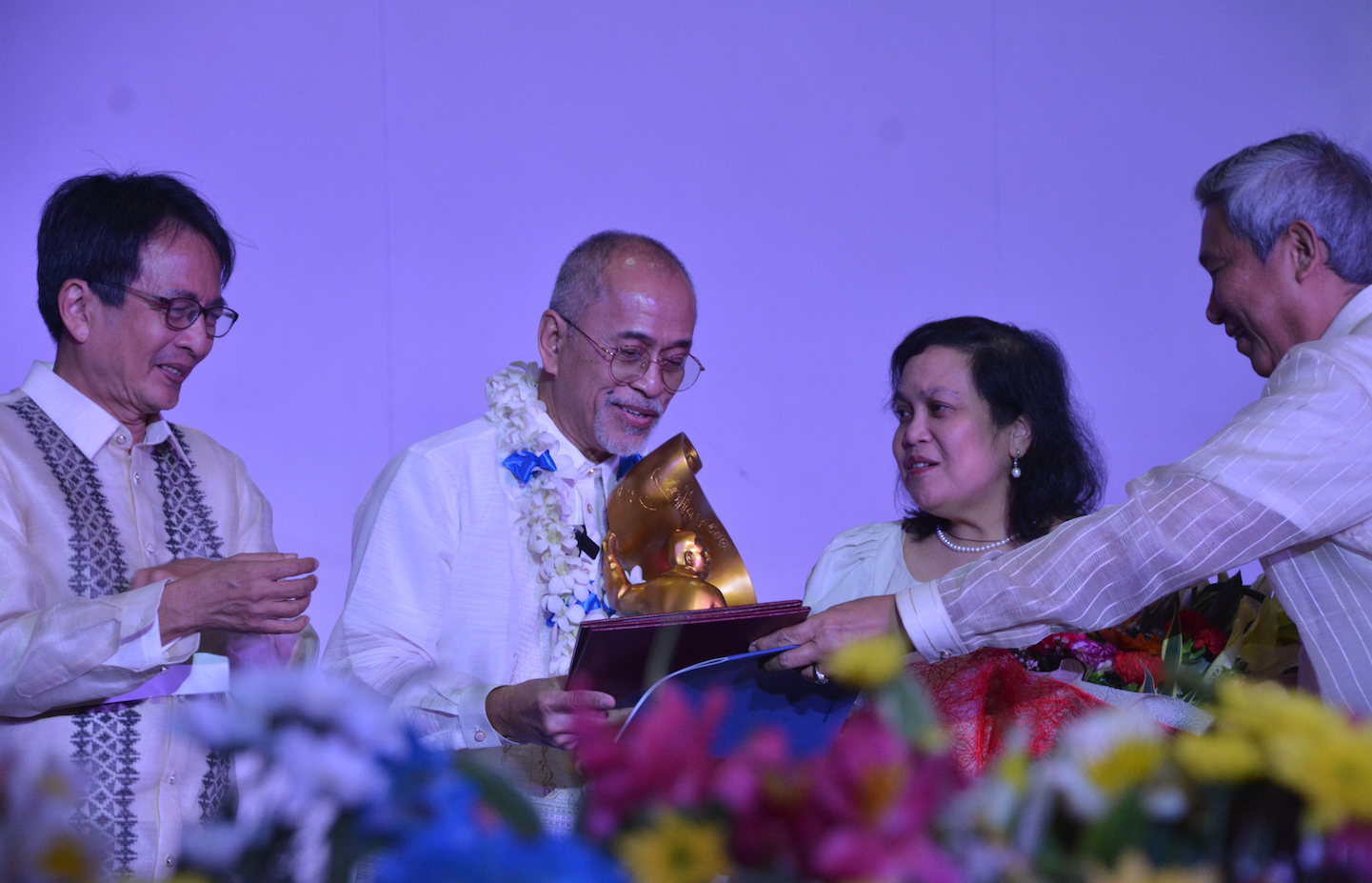 (NOV. 22)— Multi-awarded filmmaker and playwright Bonifacio "Boni" P. Ilagan is this year's Gawad Plaridel awardee.
He was conferred the award in the transmedia category on Nov. 20 at the UP Film Center's Cine Adarna.
Socially-conscious works. The UP College of Mass Communication (CMC) commended Ilagan "For the artistry of his socially-conscious works in theater, film and television, which have garnered recognition from the Cultural Center of the Philippines Centennial Honors for the Arts, Gawad Balagtas, the University of the Philippines (UP) Creative Writing Center (now UP Institute of Creative Writing), Don Carlos Palanca Memorial Awards for Literature, CCP Playwriting Contest, Palihang Aurelio V. Tolentino, Catholic Mass Media Awards, Film Academy of the Philippines, Star Awards  and the Filipino Academy of Movie Arts and Science."
He was recognized "For his passionate commitment to the promotion of a progressive social agenda" through his plays such as "Welga! Welga!" and "Pagsambang Bayan," both cited in the CCP Encyclopedia of Philippine Art; screenplays that tackle political issues like "Flor Contemplacion Story" (co-written with Ricky Lee), "Dukot," "Sigwa," "Deadline" and "Migrante;" documentaries "that focus on national sovereignty and economic issues" such as "Sa Liyab ng Libong Sulo" and "Visiting Forces Agreement: A Question of Nationhood," and his contributions as writer such as the television docu-drama series "Alab ng Lahi," and as writer and director of public service programs like "Health Television" and "Nora Mismo" among others.
In addition, he was cited "For his brave leadership of activist organizations like Panday-Sining and Kabataang Makabayan (UP Diliman); his continued guidance of progressive groups like the Surian ng Sining, First Quarter Storm Movement, Campaign Against the Return of the Marcoses to Malacañang, and Let's Organize for Democracy and Integrity; and his active management today of alternative media groups Tudla, ST Exposure, and Kodao Production."
Art and activism. A staunch human rights advocate and critic of the Marcoses, Ilagan said, "Sa pagdaraos ng 2019 Gawad Plaridel, alalahanin natin ang mga Filipinong naging bayani at martir sa media at mga sining sa ngalan ng mga kalayaan at karapatan na ngayon ay nilalapastangan."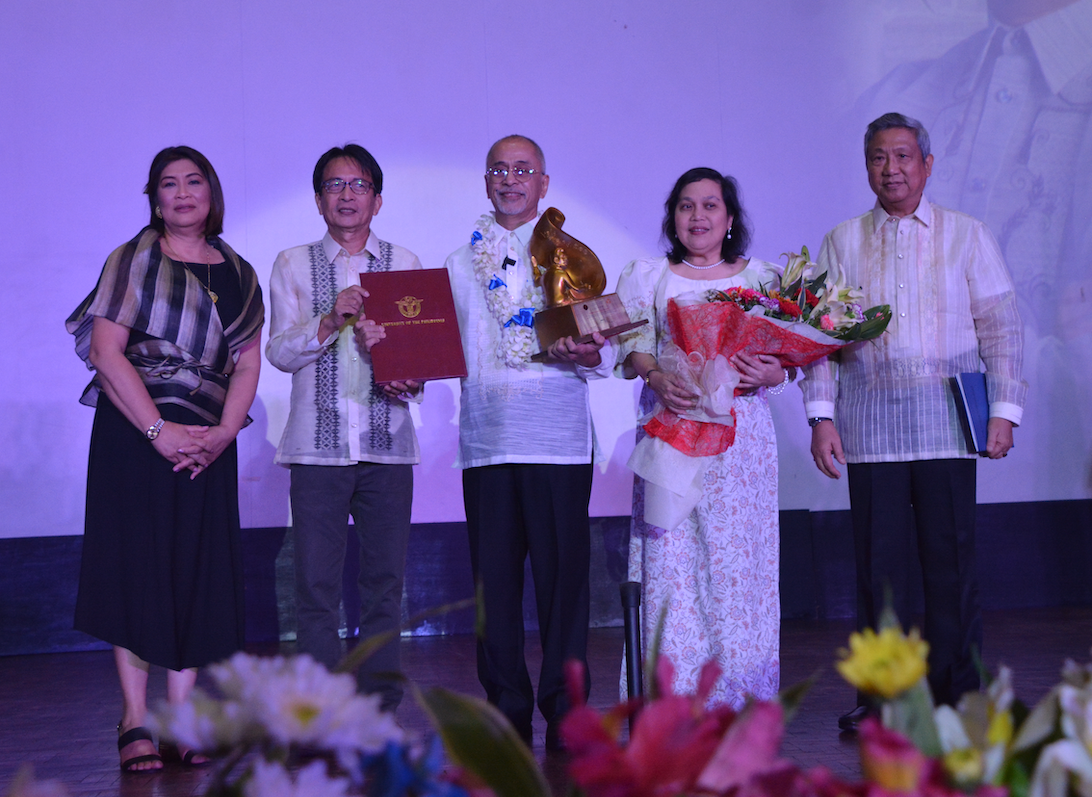 "Ang Gawad Plaridel para sa akin ay isang hamon upang ipagpatuloy ang kanilang simulain, lubha pa't ang republika, sa maraming pakahulugan, ay umuunlad na paurong. Tila ba tayo ay nasa isang yugto ng retrogression pabalik sa obscurantism at bigotry noong panahon ni Marcelo H. Del Pilar," he said.
Ilagan also talked about his role as an artist and activist when the Martial Law was declared in September 1972.
"I was already in the underground resistance in the company of some of the best journalists and artists in the country. We formed an elaborate clandestine press network that issued several news and cultural publications in Filipino and English. Our print run was only a few thousands but the pass-on readership and impact it created were astonishing," he said.
He also said "In 1974, the military raided several of our underground houses, UP Professor Dolores Feria, Pete Lacaba and I were in one of them. Like most detainees, we were tortured. It was brutal. I was released in 1976. I re-enrolled in UP, no questions asked kahit nag-AWOL ako. The first play that I wrote was the liturgical 'Pagsambang Bayan' which lambasted the Martial Law regime."
Although the Martial Law already ended 47 years ago, Ilagan said "Why still today, why must we all speak up? Because tyranny has resurrected, proclaiming authority all over the land. Why persist? Because history is being turned upside down. Because the evils of the past have returned."
Awarding ceremony. Vice President for Public Affairs Elena E. Pernia; UPD Chancellor Michael L. Tan and CMC dean Prof. Arminda V. Santiago, PhD awarded Ilagan the Gawad Plaridel trophy designed by National Artist for Sculpture Napoleon V. Abueva.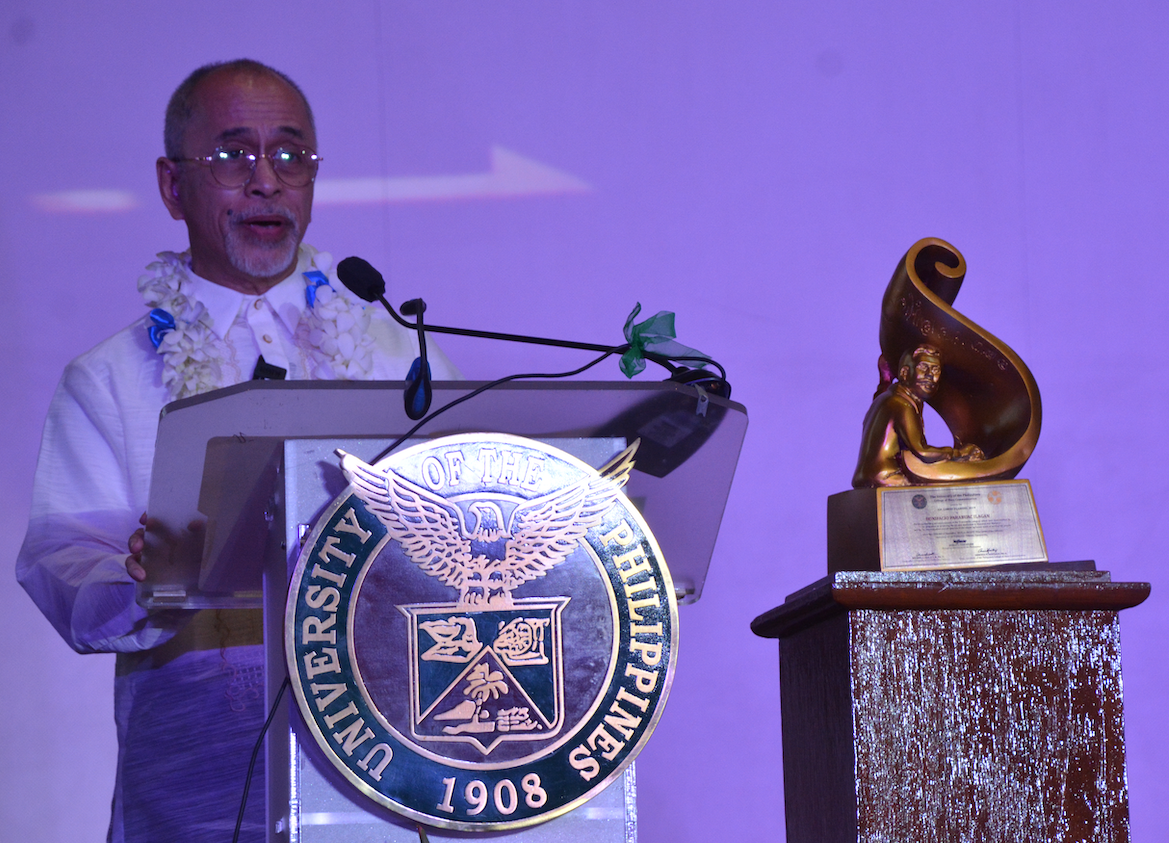 The citation was written by former CMC dean Prof. Rolando B. Tolentino and read at the ceremony by Professor Emeritus in Film and Audio-Visual Communication Nicanor G. Tiongson.
Present during the program were National Artist for Literature Bienvenido Lumbera, Gawad Plaridel Awardee Jose "Pete" Lacaba, former Department of Social Welfare and Development Secretary Judy Taguiwalo, former CMC deans Prof. Luis V. Teodoro and Prof. Georgina Encanto, PhD, UP System Assistant Vice President for Public Affairs Jose Wendell Capili, Ilagan's friends and colleagues, and some students and faculty from other universities.
Named after the Philippine hero Marcelo H. del Pilar's nom de plume, the Gawad Plaridel is the CMC's distinction for Filipino media practitioners who excelled in any of the media (print, radio, film and television) and have performed with the highest level of professional integrity in the interest of public service.
Ilagan now joins the roster of Gawad Plaridel recipients Eugenia Duran-Apostol (2004, print), Vilma Santos (2005, film), Fidela "Tiya Dely" Magpayo (2006, radio), Cecilia "Cheche" L. Lazaro (2007, television), Pachico A. Seares (2008, community print), Kidlat Tahimik (2009, independent film), Eloisa "Lola Sela" Canlas (2011, radio), Florence "Rosa Rosal" Danon-Gayda (2012, television), Lacaba (2013, print), Nora "Nora Aunor" Villamayor (2014, transmedia), Ricardo "Ricky" Lee (2015, film), Francisca "Babes" Custodio (2016, radio), Tina Monzon-Palma (2017, television), and Ma. Jessica Soho (2018, journalism).
A video of the Gawad Plaridel 2019 may be viewed at DILC's YouTube Channel (URL: https://youtu.be/6dq2Fu8tyd0). —Haidee C. Pineda, images by Leonardo A. Reyes