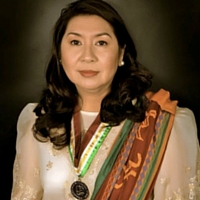 (MAR. 21) — It is with a heavy heart that UP Diliman announces the passing of Prof. Aileen S.P. Baviera, PhD, former UP Asian Center Dean and the country's foremost sinologist from complications due to the COVID-19 at 3:55 a.m today, Mar. 21, at the San Lazaro Hospital.  She was 60 years old.
The senior faculty referred to in the Mar. 15 UPD Bulletin who self-quarantined, Baviera was in Paris, France attending the First Indo-Pacific Conference from Mar. 4 to 11, 2020. When one participant caught COVID-19, all participants went on a self-quarantine.  Upon her arrival in Manila on Mar. 12, from the airport, she went straight to the San Lazaro Hospital for a check-up where she was immediately confined.  On March 14, test results confirmed she was positive and UPD officials were immediately informed.
Baviera, who was dean of the UP Asian Center from September 2003 to October 2009 was an expert in Chinese Studies.  She was sought after for her knowledge on issues on China and on the West Philippine Sea (South China Sea) disputes.  She had given valuable inputs about the disputes particularly on historical, legal and security contexts.
She has a PhD in Political Science and specialized in Contemporary China studies, China-Southeast Asia Relations, Asia-Pacific Security, Territorial and Maritime Disputes and Regional Integration.
She was president of Asia Pacific Pathways to Progress Foundation, Inc., an organization that seeks to develop issue-based partnerships and networks among governmental and non-governmental organizations, the private sector and academic institutions in the Philippines and the Asia-Pacific.
The author of "Regional Security in East Asia: Challenges to Cooperation and Community Building," and other articles and book chapters, Baviera was also editor-in-chief of "Asian Politics and Policy," a quarterly peer-reviewed academic journal published by Wiley-Blackwell on behalf of the Policy Studies Organization and the Center for Asian Politics and Policy.
A conscientious and beloved member of the UPD community, Baviera always ensured the welfare of others.  Her actions made the campus remain COVID-19-free.
Baviera, a widow of two years, left behind three children.—UP Diliman Information Office, photo credit UP Asian Center website