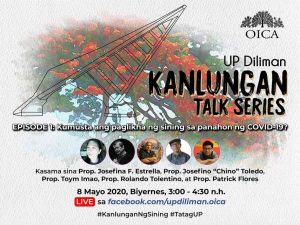 (MAY 8) — Five UP professors will talk about the status of creating art in the time of the COVID-19 pandemic through the online forum "UP Diliman Kanlungan Talk Series"(UPDKTS), today May 8, from 3 to 4:30 p.m.
Organized by the Office for Initiatives in Culture and the Arts (OICA) and will be launched via Facebook Live, the pilot episode will have Professors Josefina F. Estrella (College of Arts and Letters/CAL), Patrick D. Flores, PhD (CAL), Toym Imao (College of Fine Arts), Josefino "Chino" Toledo (College of Music) and Rolando B. Tolentino (College of Mass Communication) as speakers.
The forum will discuss the support given to artists affected by the enhanced community quarantine; the things that artists can do during these trying times, and the lessons they learned in this health crisis.
OICA Director Cecilia De La Paz said members of the UP Diliman community, artists and cultural workers are invited to participate in the UPDKTS to discuss the pandemic's impact in the arts and culture sector, art's significance in helping the economy and how UPDKTS can strengthen its connection with the members of the society.
"We hope OICA can sustain the episodes as long as the community quarantine and social distancing measures are in place," De La Paz said.