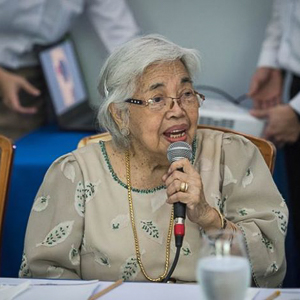 (DEC. 30)—National Artist for Theatre and University Professor Emerita Amelia Lapeña-Bonifacio passed away yesterday, Dec. 29. She was 90.
Known as the "Grand Dame of Southeast Asian Children's Theater," Lapeña-Bonifacio was conferred the title National Artist for Theatre, the country's highest recognition for artists, on October 24, 2018.
A playwright, puppeteer and an educator, she was the founding artistic director of Teatrong Mulat ng Pilipinas, a children's theater and puppet theater company established in 1977.
Upon her retirement in 1995, UP bestowed upon Lapeña-Bonifacio the rank of University Professor Emerita"for her exceptional achievements and outstanding service."
Among her works were 10 books, 16 plays, 30 plays for children and more than 130 short stories for children published by the Philippine Journal of Education. She has also produced a number of poems, short stories and essays.
Among her notable plays were "Sita & Rama: Papet Ramayana," staged at the 2006 Kaohsiung Country International Puppet Festival in Taiwan, at the 2017 UP Diliman Month and "Papet Pasyon (The Passion Play in Puppetry)" which was first presented at the Cultural Center of the Philippines in 1985 and henceforth became a yearly presentation at UP, Intramuros and other provinces since 2006.
Two of her short stories were translated into other languages, namely "Tia Purificacion," (German) and published in Frauen Auf Den Philippinen Frauen in Germany and "The Stairs," (Dutch) and published as part of the book Het Ver-Welken Van De Regenbloesem in Amsterdam.  She managed the Amelia Lapeña-Bonifacio Papet Teatro Museo.
Lapeña-Bonifacio received numerous awards, among them the Carlos Palanca Memorial Award in Literature for One Act Play for "Dalawang Bayani" in 1995, and the second prize, Full Length Play for "Chinchina and the Five Mountains" in 2006.  In 2017, she received the City of Manila Outstanding Citizen Award and the Quezon City Most Outstanding Citizen Award in 2013.
She earned her MA (Speech-Theatre Arts) from the University of Wisconsin-Madison in 1958, where, through a Fulbright-Smith Mundt Scholarship, she enrolled in the Beloit College of Graduate Summer Theatre Scholarship (1957-1958).  She graduated with an AB (English) from UPD in 1953.
Born on April 4, 1930 in Binondo, Manila, she was married to Professor Emeritus of Sociology Manuel Flores Bonifacio, and is the mother of Prof. Amihan Bonifacio-Ramolete, PhD, the current College of Arts and Letters dean.
TeatrongMulat announced on their Facebook page that Lapeña-Bonifacio's wake is scheduled from Dec. 30 to 31, 9 a.m. to 6 p.m., at the Imperial Classic, G/F Funeraria Paz Araneta Ave. Visitors are requested to comply with the IATF health protocols.
In lieu of flowers, donations may be given to Teatrong Mulat ng Pilipinas Foundation, Inc. through GCash 09189032040 (Ma Amihan R), BDO S/A 006520231060 (Ma. Amihan Ramolete), or LandBank S/A 3076 1038 86 (Ma. Amihan Ramolete).