Alternative cinema will be the topic in the next Faculty Brownbag presentation of the UP Diliman College of Mass Communication Office of Research and Publication (CMC-ORP), in partnership with the UP Film Institute (UPFI), on July 15, 2 p.m. via Zoom.
Alternative cinema has long been marginalized because of the dominance of the commercial movie industry. At the Brownbag presentation, Nick Deocampo will discuss its phenomenal growth in his lecture, "Nomadic Journeys of a Thousand Cinemas."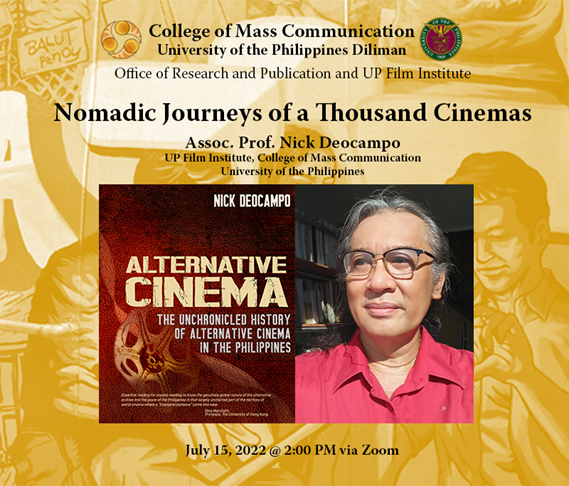 The known filmmaker, film historian, and author will introduce the concept of the rhizome in the study of Philippine cinema. Deocampo is an advocate of alternative cinema, and through this lecture, he aims to promote alternative cinema as a form of people's cinema.
The event also features the launch of his book, Alternative Cinema: The Unchronicled History of Alternative Cinema in the Philippines.
Deocampo is a professor at the UPFI. He earned his master's degree (cinema studies) from New York University (1989) under a Fulbright scholarship grant, and his bachelor's degree (theatre), cum laude from UP (1981).
Deocampo is also a recipient of the Ten Outstanding Young Men in the Philippines (1992) and Ten Outstanding Young Persons in the World (1994) awards.
Started in 2004, the Brownbag series is organized by the CMC-ORP as a venue for local and foreign faculty members to present their research output. To attend the event, register through the link: https://bit.ly/Nick_deocampo. — With a report from the College of Mass Communication