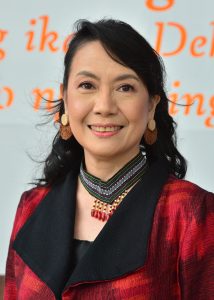 (SEPT. 2)—Prof. Mitzi Marie Aguilar-Reyes was affirmed as the 15th College of Fine Arts (CFA) dean by UP Diliman Chancellor Michael L. Tan in a ceremony held on Aug. 29 at the CFA Arts and Design West Hall.
At the affirmation rites, Aguilar-Reyes talked about the spirit of "Bayanihan," a Filipino custom where people from the community would gather and assist their neighbors with whatever they need including transferring a house by lifting or carrying it to another location with the help of the community's able-bodied men.
"How can the UP CFA reinvigorate the spirit of bayanihan? It takes brawn and strength to lift a house but it takes imagination to do it efficiently and strategically, thus, guaranteeing the success of the task and well-being of everyone involved," Aguilar-Reyes said.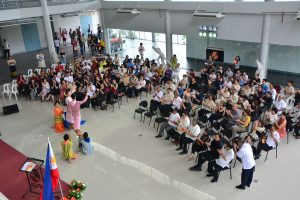 She said CFA's trademark "Artista ng Bayan" is a reminder that it is the duty of the college "to illustrate and demonstrate the essence of bayanihan for our fellow countrymen."
"As mentors, it is our vocation to cultivate an inclusive learning environment and empower students to reach their full potential and become active contributors to the community. In turn, it is the social responsibility of our beloved students to convert their talents and skills and learning into actual efforts to uplift others," she said.
Moreover, Aguilar-Reyes said, "Bayanihan is also demonstrated in the spirit of collaboration by nurturing relationships with other colleges and organizations."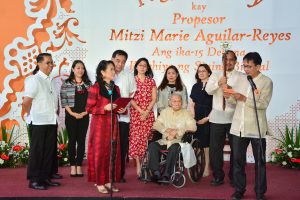 She ended her message with a battle cry, "Sining na may tungkulin, tungkulin na may sining. Art with a purpose and purpose with art. As artists, we must remember that our practice is not drawing lang tayo. In our own way, we can influence, move and persuade which is why our work must always be anchored to a solid purpose and a purpose cannot be achieved without a strong vision and masterful execution. Any purpose fulfilled in this manner would be our masterpiece."
Aguilar-Reyes earned both her Bachelor of Fine Arts major in Visual Communication and Master of Arts in History in UP in 1983 and 1994, respectively.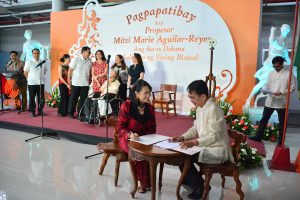 A professor at the Department of Visual Communication (DVC), she has been with the University for more than three decades and was DVC chair from 2005 to 2010. 
Appointed by Tan as University Food Service officer-in-charge in 2015, she later became its director and served until May 2019.
As faculty, Aguilar-Reyes received numerous awards and grants including the "UP Arts Productivity System Award 2019" as UP Artist 1; "One UP Professorial Chair" grants for 2018-2019 and 2017-2018; "Jose Joya Professorial Chair" in 1996, 2001 and 2014, and was conferred the "Guillermo Tolentino Chair" in 2006 and the "Federico Alcuaz Professorial Chair" in 2009.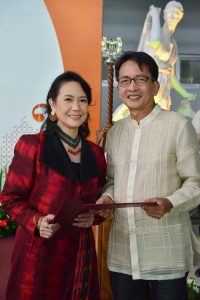 Aguilar-Reyes's research on "The Patadyong: A Colorful Weaving Tradition of Miag-ao, Iloilo" was included in the book "HABI, A Journey Through Philippine Handwoven Textiles," published in 2013 by The Philippine Textile Council. 
She co-authored "Garment of Honor, Garment of Identity," a comprehensive research on the barong Tagalog published by the Barong Filipino Foundation, Inc. in 2008.
She is one of the founding members of the "Ang Ilustrador ng Kabataan" (Ang I.N.K.) and was also one of the illustrators of the "Ang INKredible Coloring Book for Big and Small People" published by Anvil Publishing, Inc. in 2016.
Aguilar-Reyes is a painter, printmaker and potter who had solo exhibits and has participated in several art exhibits both local and international.
Aguilar-Reyes also introduced the CFA executive committee: Asst. Prof. Jamel Joseph Obnamia (College Secretary), Asst. Prof. Nina Elisa Constantino (Industrial Design Program Director), Asst. Prof. Marc J. San Valentin (DVC Chair), Assoc. Prof. Dakila Fernando (Department of Theory), Prof. Leo Antonio Abaya (Department of Studio Arts Chair) and Assoc. Prof. Romanlito Austria (Graduate Program Coordinator).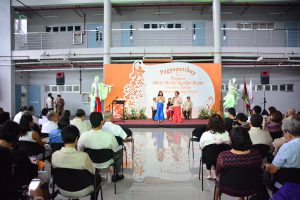 Meanwhile, former CFA dean Prof. Leonardo Rosete expressed his gratitude to the college, the UP System and UPD administration, students, faculty, staff and guests who attended the affirmation. He also said "Isipin din ng ibang faculty na panahon na para isulat ang gabay na magbibigay ng direksyon sa mga namumuno ng Kolehiyo. Kaya kahit ito ay pasalin-salin, mayroon talagang isang gabay na isusulong para manatiling matatas at masigla ang buhay ng sining."
UP President Danilo L. Concepcion graced the occasion and delivered a welcome message to the new CFA dean.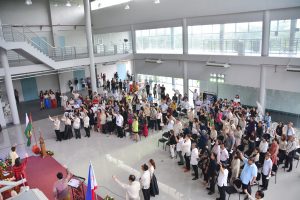 Also present during the program were Vice Chancellor for Academic Affairs Evangeline C. Amor, Vice Chancellor for Student Affairs Jerwin F. Agpaoa, University Registrar Ma. Theresa T. Payongayong, former CFA deans Prof. Florentina Colayco and Prof. Leonilo Doloricon, College of Arts and Letters dean Prof. Amihan Bonifacio-Ramolete, PhD, College of Architecture dean Prof. Armin B. Sarthou Jr., incoming College of Science dean Prof. Giovanni A. Tapang, PhD, incoming College of Engineering dean Prof. Ferdinand G. Manegdeg, Dr. Sergia "Cherry" V. Abueva (wife of National Artist Napoleon V. Abueva), former UP Regent Georgina R. Encanto, Assistant Vice President for Academic Affairs (Curriculum and Instruction) Patricia B. Arinto, Assistant Vice President for Academic Affairs (R&D Resource Management) Mary Delia G. Tomacruz, former CFA professors and staff, CFA students, Aguilar-Reyes's family, friends and colleagues, UP System and UP Diliman officials, and CFA's supporters.
Aguilar-Reyes was introduced by her friend and colleague Assoc. Prof. Ruben F. De Jesus of DVC while Austria emceed the affirmation rites. Intermission numbers were provided by the UP Filipiniana Dance Group (for "Sayaw sa Bangko"), Nanette and Lara Maigue (for a mother-daughter duet), and Koro Sining (for "Harana sa Dekana" and "UP Naming Mahal"), a newly formed choir composed of CFA professors and staff. —Haidee C. Pineda, images by Jefferson Villacruz