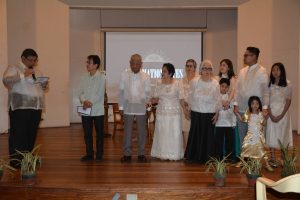 (OCT. 16)—New College of Engineering (COE) dean Ferdinand G. Manegdeg wasted no time at the podium during his affirmation address on the afternoon of Oct. 8 at the Engineering Theater, firing off a laundry list of tasks to improve services in the college.
Pillars. Manegdeg, a member of the Department of Mechanical Engineering (DME), outlined his plans for the COE based on what he calls "five pillars," named after the COE's various publics: faculty, research, extension and professional staff (REPS), administrative staff, students and alumni.
For faculty he aims to strengthen COE faculty members' chances of receiving professorial chairs with the crafting of a new awards and promotion scheme, which he promises will be "absolute, inclusive, democratic and equitable."
He promised that REPS will no longer be relegated to the ranks of administrative staff but instead will be integrated into the faculty as lecturers to give them additional benefits and incentives with the aim of eventually appointing them into permanent positions.
He also revealed the creation of several research grants, two of which were given by the Bureau of Investments worth P17 million, and an emergency policy fund from the Office of the Vice President for Academic Affairs worth P69 million.
To the administrative staff, Manegdeg promised security of tenure and the purchase of several electronic tablets to improve communication and work efficiency throughout the college.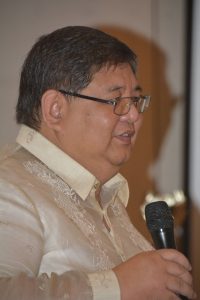 Students can avail of bridge loans to supplement their existing school expenses. This is in addition to the five new scholarship offers, one new award and internship agreements for COE students that he announced during the ceremony.
He encouraged COE alumni to help with the construction and connection of buildings for the Departments of Industrial Engineering and Operations Research (IEOR), the Geodetic Engineering (DGE) and DME to create a new Engineering Complex.
Manegdeg announced the launch of a Supply and Demand Survey as well as new programs: Naval Architecture, Aerospace Engineering Train System Engineering, Quick Response Engineering, Biomechanical Engineering, Resilient Construction and Artificial Intelligence.
One of his extension programs is "Tulong ng UP Eng'g sa Bayan," a series of articles on various engineering topics meant for publication in major newspapers. Manegdeg announced the first of the Distinguished Engineering Policy Lectures held in Samar and the Bangsamoro Autonomous Region.
He announced a partnership with southern Taiwan universities for the development of research and degree programs for students and faculty. Featured in his presentation are the Edu-Connect Southeast Asia Association in Taiwan and the Taiwan Solar Energy Corporation.
CEB. The COE's new college executive board is composed of Asst. Prof. Eligia D. Clemente (College Secretary), Asst. Prof. Riza Rae A. Pineda and Karl Adrian P. Vergara (Assistant College Secretaries), Prof. Manolo G. Mena (National Graduate School of Engineering Program Director), Assoc. Prof. Gerald Jo C. Denoga (Associate Dean for Research and ERDT Project Leader), Asst. Prof. Carl Michael F. Odulio (Associate Dean for Administration), Assoc. Prof. Florencio C. Ballesteros, Jr. (Associate Dean for Instruction), Asst. Prof. Juvy A. Balbarona (Associate Dean for Student Affairs).
Manegdeg also acknowledged the heads and directors of the various institutes and centers: Prof. Maria Antonia N. Tanchuling (Director of the Institute of Civil Engineering; Assoc. Prof. Michael Angelo A. Pedrasa (Director of the Electrical and Electronics Engineering Institute); Asst. Prof. Roberto S. Soriano (Director of the National Hydraulics Research Center); Asst. Prof. Hilario Sean O. Palmiano (Officer-in-Charge, National Center For Transportation Studies); Prof. Fernando J. Germar (Director for Building Research Services and Ms. Maria Rea F. Bunuan (Officer-in-Charge, National Engineering Center following the sudden passing of Nestor O. Rañeses on Oct. 4).
Special musical guests at the ceremony were former College of Music Dean Ramon Acoymo and current and former members of the UP Singing Ambassadors from the COE.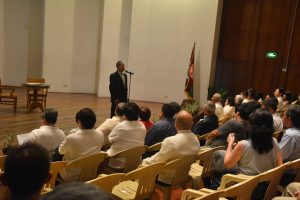 Acoymo performed "The Prayer" by David Foster, Carole Bayer Sager, Alberto Testa and Tony Renis and a medley of "This is the Moment" by Frank Wildhorn and Leslie Bricusse and "Ngayon" by George Canseco.
UPD Chancellor Michael L. Tan congratulated the COE and gave Manegdeg a copy of Irish poet John O'Donohue's poem "For one who holds power."
Executive Vice President Teodoro Herbosa delivered a congratulatory message from President Danilo Concepcion, citing his tenure as head of the Human Resources Development Office.
"Mahihinuha natin ang lubos na paggalang at tutok [niya] sa proseso't galaw. Subalit may lakip na diwa sa paglilingkod, pag-atubili sa kasamahan, at pagtugon sa pinagsisilbihan," he said.
Manegdeg will serve from Sept. 1 until Aug. 31, 2022.