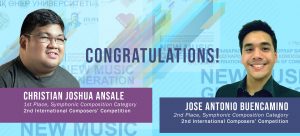 (DEC. 17)—UP College of Music fresh graduates Joshua Ansale and Jose Antonio C. Buencamino bagged major awards in the recently held "2nd International Competition of Composers (New Music Generation 2020)."
The competition held online in Nur-Sultan City, Republic of Kazakhstan from Nov. 16 to 21 was organized by the Kazakh National University of Arts in cooperation with Kazakhstan's Ministry of Culture and Sport which aims to popularize "contemporary music in all diversity" and support and popularize "the creativity of young composers."
Both joined the said competition while still CMu students.
According to UP College of Music, Ansale's "Ang Ouroboros" won first prize while Buencamino's "PinaginipangHibla" bagged the second prize in the Symphonic Composition category for composers ages 15 to 25.
Ansale wrote in his Youtube Channel that "Ang Ouroboros" is "a one movement symphonic poem for orchestra."   He played it during his graduation recital.
Buencamino, who graduated summa cum laude in July, mentioned in his Youtube channel that his composition "PinaginipangHibla" is "an orchestral piece in three movements following the imagery of the creative process of weaving. The piece was inspired by the T'Nalak of the T'boli people from South Cotabato who find their patterns from nature and are gifted patterns in their dreams. This is my weave of the lines and colors that have come to me in my days, my in-betweens, and my dreams."
Ansale and Buencamino will both receive an honorary diploma and cash prizes of 200,000 Kazakhstani Tenge (KZT/PHP22,903.87) and 160,000 KZT (PHP18,324.12), respectively.
In related development, Ansale also won the Jovita Fuentes Award for his art song "KailongPugad" in the Hiligaynon Art Song Workshop. The announcement was posted in the Center for Heritage and Indigenous Cultures – University of San Agustin Facebook page on Dec. 5.